Skip Navigation
Website Accessibility
Main Street Quilting Company News- Spring 2023

March 26, 2023
Dear Friends,
Hello! It's springtime in Montana... Almost 50 degrees a few says ago and this weekend it's snowing and snowing and snowing. I don't ever remember having to be closed all day due to snow but for the safety of our staff, we had to be closed yesterday. I hope this email finds you getting out another project to sew and enjoy a cozy day inside. If you need a new project, we certainly have a new selection of fabrics and projects to share!

Blocks of the Month:

Sign ups are now available for the new Anteli Block of the Month. If you've taken any of our classes, you will already have a few of the tools you need to make this gorgeous quilt! We are currently making our store sample and have limited signups. If you are interested, sign up here will be cutting each month as soon as the fabric arrives later this summer.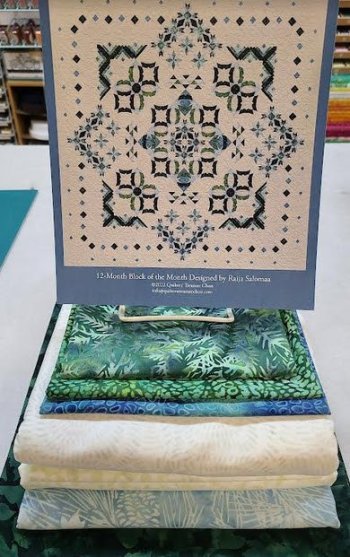 Barn Quilt Block of the Month:

Kits are ready for this lovely large block quilt. Our version has a black background and is striking!

Barn Quilt a 6 month Block of the Month is now available monthly or as a full kit!




We are just about finished cutting for the Fabulous Block of the Month. Our kits have the most lovely rustic colors and is only an 8 month program. Click here for your Fabulous Registration and we will get your monthly kits set aside for you!




We have one other Block of the Month on order... if you are following us on Facebook - we will be showing a little sneak peak there first in the following weeks. Hint: Get ready for Blues and Golds!



Upcoming Classes:

See below for the upcoming retreats, classes and events


Mini Retreats: Come join us for a weekend each month to work on projects, learn new things, and hang out with a great group of ladies! We have filled the Spring Mini Retreats and have opened June retreat dates. Please call us for the exact dates and sign up availability. 406-586-6097

Star Quilt Class- An Advanced Beginner Class: Coming Fall 2023

This new series of classes will walk you through learning new techniques and will also be a great view of basics from our Beginning Class. We will focus on translating the book and precision piecing. We will be putting more info on this class on our Facebook page as well as on our calendar in the coming weeks. Please let us know if you would like to be added to the interest list by calling or emailing us at info@mainstreetquiltingco.com

Foundational Learning Class 201- Intermediate Quilting- 14 weeks starting September 2023 Our fall session has been scheduled. Once you have completed the Beginning Quilting Foundational Class from Main Street Quilting Co, you can take your skills to the next level with our Intermediate Class. Morning Class Sign Up or Evening Class Sign Up


Artist in You Class by Sue Olsen April 14th & April 21 our Friday class still has 4 spots left! You will making a unique wall hanging from a photograph of your choosing. Sign ups close on April 1st Cost: $125 + supplies Friday Class Sign Up
Collage Applique Techniques Class with Leslie McNeil - Coming end of September. Call to get on the interest list. Leslie has MANY patterns in her collection from which to choose. She will only be teaching from her patterns and we have many of them in our store.
Mark your calendars for the Spring Shop Hop: May 4, 5, 6 --- Hop your way from Big Timber, Livingston, Bozeman and Three Forks for a fun shop hop with your favorite local shops. Get your passport at the first shop you visit and when all shops have stamped your passport, turn it in for a prize drawing- Six gift certificate winners!!
New on Our Shelves:

Patterns:
Kits:


Pineapple Party PreCut Kit


Wool Kits


Zippy Bags Kits- Make 8 bags- Includes fabric, pattern and zippers.


Tapestry Quilt Kit- all precut for you, just sew it together!


Felix the Fox Cuddle Kit- Includes pattern and all fabrics to make the quilt and the stuffy.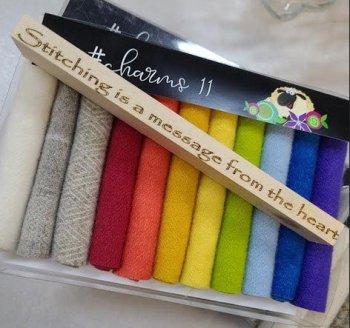 Wool Charm Packs- two colorways available, comes with the cute little wooden sign.



Scintillating Stars Kit - this easy to piece, queen size quilt can be completed in a weekend!

Notions:

Carry your blocks in style with our Block Carry Case- 5 colors to choose from!


Our Janome bobbin case holds up to 60 bobbins!!


This amazing ToteOlogy carry case has been a best seller. Comes in two colors: teal or purple. It holds all the notions you need plus a large cutting mat and your Stripology Ruler!

Fabric Collections: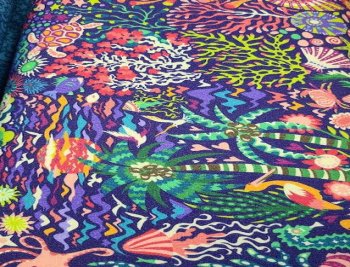 Atlantis is a bright new collection full of fun summer colors for the ocean lover in your life. We even have the main print in a jersey knit!


Fat quarter bundles of our custom Yellowstone National Park batiks are back!

Margot is a lovely vintage inspired collection that would be lovely in a quilt or clothing or bags... The possibilities are endless!


The Pheobe collection is a few more pieces coming but I couldn't resist showing off the florals and the bees!


More lovely batiks to add to your project!


Machine Corner:
When was the last time you put a little drop of oil in your machine? Oiling the hook (the case your bobbin sits inside) on a regular basis will keep your machine purring and sewing like a champ. We recommend cleaning, changing your needle and adding a little drop of oil to the wick under your bobbin case (if needed) after the completion of a large project. This routine will get you ready for success with your next project. Not sure where to oil? Check your manual or give us a call.





Need a new machine? Let us help you get into the best tool for your best work. We've had deliveries like crazy lately. Plus, there's great sale going on with Janome until the end of the month- stop in and see the new models of machines!


Machine Service and Repairs:
Our sewing machine expert's service schedule has filled so quickly for months now. Please call us at 406-586-6097 to get a reservation for your machine. We are now filling the May and June slots. Walk-in machines require prepayment. We are able to service and repair all makes and models of machines: Embroidery, Sewing and Sergers.
Main Street Quilting Company Spring/Summer Hours:
Monday - Saturday open 10a - 4pm

Closed for Memorial Day, May 28-29
Open Tuesday July 4th 10a -1pm
Closed for Labor Day, Sept 3-4