November December 2022 Main Street Quilting Company
Dear Friends,
Happy Thanksgiving!!
I hate to break the news, but there are 30 more days until Christmas. We have got quick and easy gifts and gift ideas for you to share with your family.
Last weekend at our Christmas Project Mini Retreat we completed three cute projects for gift giving. We had a fun time sewing, watching the Bobcats WIN and meeting new friends. If you missed out, you can stop in or find the patterns online: Inside Out place mats, Bridget's Bagettes, and the Around the Square Runner


It's not too late to sign up for the 2023 Birthday Club. We have two groups already filling and would love to have you join in. I will be closing registration on Friday, 12/30/22. Click to check out more info & sign up


Where you in the 2022 Birthday Club? Check your email for the Party Registration Invitation we sent out last week.
On Our Shelves: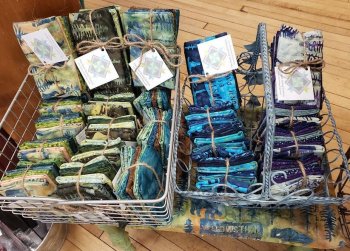 Restock of our custom Yellowstone Batik colors are in - Fat Quarter Bundles available as well.


Forget Me Not bolts and Fat Quarter Bundles now available.


Yummy Flannels from Maywood Studio would go well with this new 10" pattern book.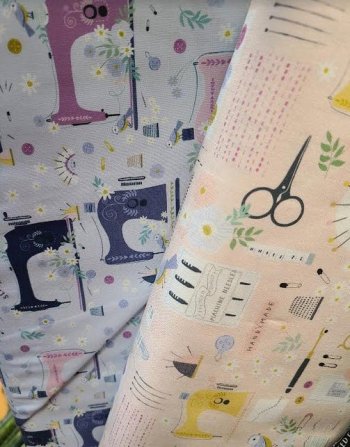 Vintage Machines



Have a Wine Lover in your life? This print makes everything fun.



Two Kits left of this fast runner.



Wrist neutral rotary cutters are here for right handers or left.



Barn Quilt a 6 month Block of the Month is now available monthly or as a full kit!

Upcoming Classes:

See below for the upcoming retreats, classes and events for the beginning of 2023

Quilting Mini Retreat: Come join us for a weekend each month to work on projects, learn new things, and hang out with a great group of ladies! Sign up here for : December 2022




Foundational Learning Class 201-

Intermediate Quilting- 14 weeks starting Sign up now! We have a few spots left. If you have taken any of our Beginner Quilting classes, you are ready to move on and advance your quilting skills. We will be using the book "Red at Night" and building from what you learned in BQ. There are fourteen 3hr sessions! Cost: $185 + supplies Sign Up Here

Artist in You Class by Sue Olsen will be coming back! We have two different sessions available for this two part class. You will making a unique wall hanging from a photograph of your choosing. Sign up early as this class is already filling! Cost: $125 + supplies See the website for more details. Sign up by clicking these links: Artist In You Friday Class or Artist In You Saturday Class
Did you know we have private lessons available? Call us today to get on our schedule. Have an idea for a class? Let Gwen know! 406-586-6097
Main Street Quilting Company Classroom Policy:
Our classroom space is reserved for paid classes, private lessons or retreat attendees only.

We want to respect your time and we expect to start classes on time for this reason we will have the classroom open 20 minutes prior to class start and you are welcome to get settled then. For evening classes we will be locking our store doors 5 minutes prior to the start of class so we can all start on time. Please make proper accommodations to honor that schedule.

Machine Corner:

Tips and Tricks: Tension giving you fits? Threads nesting or bobbin thread being an issue?

Try our TNT acronym for troubleshooting.
Thread- Rethread your machine and put your bobbin in the case again.
Needle- Replace with a new needle (do you have the right sized needle for the job?)
Tension- Adjust tension as the last resort.

***Most times rethreading and changing the needle does the trick.


Need a new machine? Let us help you get into the best tool for your best work. There's great sale going on with Janome right now- Janome Holiday Promo We are getting more machines in on a regular basis. Stop in and talk to us about what you need.


Machine Service and Repairs:
Our Sewing Machine Expert's schedule has filled so quickly. Please call us at 406-586-6097 to get a reservation for your machine. We are now filling the December slots. Cameron is able to service and repair all makes and models of machines: Embroidery, Sewing and Sergers.
Main Street Quilting Company Holiday Schedule:
Open Mon-Sat 10a - 4pm
Closed for Thanksgiving on Weds 11/23 & Thurs 11/24
Open 10-2pm on Christmas Eve 12/24
Closed for Christmas on 12/25
Open 10-2pm on New Years Eve 12/31