Main Street Quilting Co News August 2022

School is starting up and we have been able to tell that people are getting ready to start more sewing projects. We have quite a few new items in the store that will help with your projects. Stop in and see us Mon- Sat 10-4 or call for a private shopping session 406-586-6097


CLASSES:
Dear Daughter Sampler Monthly Class- Just three more sessions left... we are almost at the end of our year long adventure learning new techniques with this fun sampler. If you are interested in joining us, we are planning on offering this class again. Let us know of your interested. We are starting to work on the Dear Son version sampler. Please let us know if you are interested in joining us for that fun quilt.


Advanced Quilting Class- Sept 2022 We only offer this class every few years. If you already have taken our Beginning and Intermediate Classes, this is a great next step. We cover MANY techniques that an experienced quilter should know. Two spots left!! Sign up here ADVANCED QUILTING CLASS starting in Sept 2022.




Beginning Quilting Class- Sept 2022 Monday Afternoon and Tuesday Evening Classes are now being offered. We have three spots available in the Monday morning class and one spot left for Tuesday evening. As this is the first in our Foundational Learning Series and you will be learning the tools we use for our series of classes. Don't wait to sign up as we are limiting class size to give the most attention to each learner. Sign up here Monday Class or Tuesday Class



The Artist in Me Class with Sue Olsen- Sept 24 & Oct 1st- ROOM FOR ONE MORE!
Sue Olsen is a master teacher and she will be teaching us the techniques she is most well know for. Sign ups close on August 15th to give us all enough time to prepare your pattern. Mandatory Class Supply Kit will be provided at an additional cost. Class Information will be provided with in 1 month prior to class. Sewing Machines will not be needed at first session of this class but will be required for the second session. Sign up HERE





Main Street Quilting Company Classroom Policy:
Our classroom space is reserved for paid classes, private lessons or retreat attendees only. If you are joining us for a retreat or class and need to see visitors, please arrange to meet them on our sales floor or at one of the wonderful restaurants downtown. This will ensure the rest of the attendees are not distracted. **Nursing infants-in-arms only would be our only exception.

We want to respect your time and we expect to start classes on time. For this reason, we will have the classroom open 15 minutes prior to class start and you are welcome to get settled then. If an evening class, we will be locking our store doors 5 minutes prior to the start of class so we can all start on time. Please make proper accommodations to honor that schedule.


Upcoming Events:


Mini Retreats:
Need a little sewing time? Join us for good food, friendship, shenanigans and laughter and a whole lot of fun! We eat a lot, laugh a lot but we also sew some, too! Retreats fill quickly so check your calendars and sign up today using the links below. You, too, can get 5 quilt tops done this fall :)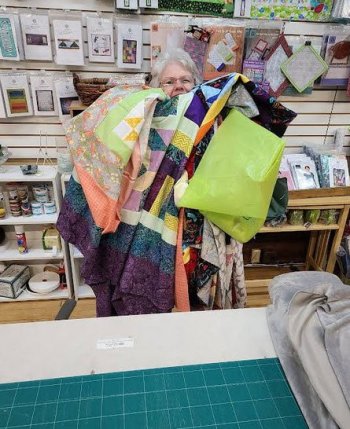 September 16-18 a three spots left- sign up here for Sept Retreat
October 7-9 now open for reservations- sign up here for October Retreat
October 28-30 now open for reservations- sign up here for End of October Retreat

Birthday Club Reminder- We have MANY blocks turned in already but this is a reminder (to me also!) that blocks are due earlier than normal. We are having our party earlier too! Blocks should be turned in by October 31st and our party will be on December 2nd.




NEW IN THE STORE:

It's been like Christmas this week with all the boxes of new fabrics... winter, baby, minkee, outdoors, and some just for fun!

Florals, Woodland and Animals...


Winter Frost
Wonderful wintery blues line has precuts, panel and bolts available. There is a free pattern with purchase of the fabrics to make a quilt.



Need a sweet baby gift? This monthly photo panel makes a cute blanket will be a great growth chart for the newborn in your life.


The new version of the Runaround Bag from Lazy Girl Designs is so nice! You get two bags per panel and we would be happy to match you up with coordinating zippers and items to make this bag a real winner.



Sneak Peak at the new Barn Quilt Block of the Month we have all cut and ready for you to make with us. These saturated batik colors are so fun and vibrant. Colors will vary slightly from the picture on far left.


The Let It Snow Flannel by Janet Nesbit of One S1ster is lovely!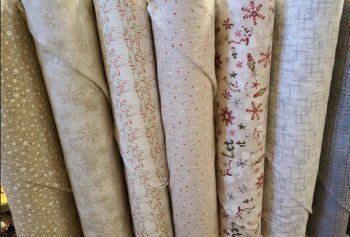 Just a few of the 11 new bolts we got in!



Little Ones collection has three panels: one book, one blocks and one panel- check them all out on our recent Facebook post. These colors are the softest greens, grays, blush, tans and browns.



New Patterns & Kits ready for your fall sewing:
Wolf Song Kit- Quilt Top just arrived today from the quilter so we will be getting that our this week for you to see how nice the fabrics are from Quilting Treasures.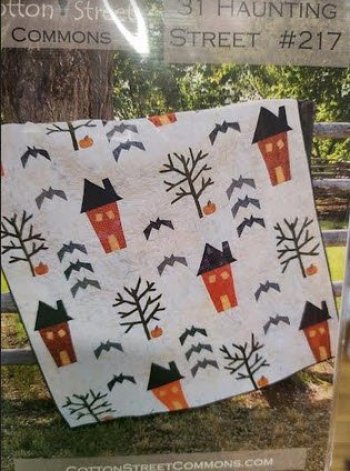 Looking for a new sewing, embroidery machine or a serger? Up to $1500 off depending on the machine you choose- Don't miss out of the great sale going on right now! Check out the Janome.com website or call us for more info. It's a great time to get a new machine for the fall and winter sewing season!




Machine Service- Our schedule for machine services have been filling and overflowing into the next tech visit. We are now booking for mid September and into October. Call ASAP (406.586.6097) to get on the reservation list and we will be able to let you know at that time what is available. For walk in-machines with out reservations, we do require prepayment.