Skip Navigation
Website Accessibility
Main Street Quilting Company News July 2022


I'm not totally sure which month of the year is my favorite (

fall crisp air- yum!)

but if you ask me today... July might be it. My flowers are blooming, we sit on the deck most evening for dinner, the days are warm and the evenings cool. I love this time of year when our see-you-once-a-year friends and summer visitors stop in the shop. There's always something happening downtown- this month is no exception.

Music on Main has begun and we will be closing at 4pm on Thursdays starting this week, July 14th through August 11th.

Facebook Live Sale (pre-crazy days sale) is happening on July 20th- mark your calendars- see our facebook post from 07/12/22 to find out more details.
Crazy Days are coming to downtown and to our basement! Stop in to get out of the heat and see what fun we have happening in the cool of the basement- July 22-23

Reminder: 5 Card Draw- Don't forget to check your emails if you have taken a class recently. I sent out a link to draw your card virtually for our basket. Please call me with any questions about that email.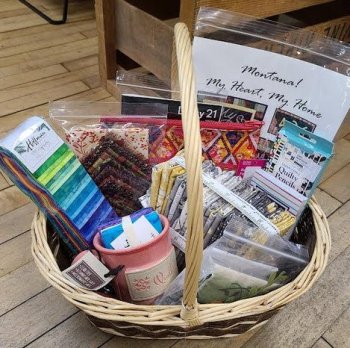 * items may vary as new fabric lines arrive




Here's a quick recap of what is happening this month at Main Street Quilting Co. We invite you to sign up online for these classes or stop in and sign up in person. We can always sign you up over the phone also! Please call us with any questions! 406.586.6097
CLASSES:
Dear Daughter Sampler Monthly Class- Just three more sessions left... we are almost at the end of our year long adventure learning new techniques with this fun sampler. If you are interested in joining us, we are planning on offering this class again. Let us know of your interest!

Ruler Work Basics with Katie Cash-
(Beginning Ruler work)- Friday, August 19th Sign up here to learn more about how to quilting rulers on your domestic sewing machine. Sign up early to have time to get all your needed supplies.

Sign up also for the next day's more advanced class- see below

Click here to sign up for the Ruler Work Basics Class

Quilting: Creative Design and Layout using Ruler Work- Saturday, August 20th The next step in ruler work! If you've taken Katie's class in the past or are taking her basics class, stay another day and learn more advanced techniques. Katie's creativity shines in this stunning sample! Creative Design Class

Advanced Quilting Class- Sept 2022 We only offer this class every few years. If you already have taken our Beginning and Intermediate Classes, this is a great next step. We cover MANY techniques that an experienced quilter should know. Sign up here ADVANCED QUILTING CLASS

starting in Sept 2022

.


Beginning Quilting Class- Sept 2022 Monday Afternoon and Tuesday Evening Classes are now being offered. As this is the first in our Foundational Learning Series and you will be learning the tools we use for our series of classes. Don't wait to sign up as we are limiting class size to give the most attention to each learner. Sign up here Monday Class or Tuesday Class



The Artist in Me Class with Sue Olsen- Sept 24 & Oct 1st
Sue Olsen is a master teacher and she will be teaching us the techniques she is most well know for. Sign ups close on August 15th to give us all enough time to prepare your pattern. Mandatory Class Supply Kit will be provided at an additional cost. Class Information will be provided with in 1 month prior to class. Sewing Machines will not be needed at first session of this class but will be required for the second session. Sign up HERE

Main Street Quilting Company Classroom Policy:
Our classroom space is reserved for paid classes, private lessons or retreat attendees only. If you are joining us for a retreat or class and need to see visitors, please arrange to meet them on our sales floor or at one of the wonderful restaurants downtown. This will ensure the rest of the attendees are not distracted. **Nursing infants-in-arms only would be our only exception.

We want to respect your time and we expect to start classes on time. For this reason, we will have the classroom open 15 minutes prior to class start and you are welcome to get settled then. If an evening class, we will be locking our store doors 5 minutes prior to the start of class so we can all start on time. Please make proper accommodations to honor that schedule.

Upcoming Events:

Upcoming Mini Retreats:
Join us for good food, friendship, shenanigans and laughter and a whole lot of fun! We eat a lot, laugh a lot but we also sew some, too! Retreats fill quickly so check your calendars and sign up today using the links below. You, too, can get 5 quilt tops done this fall :)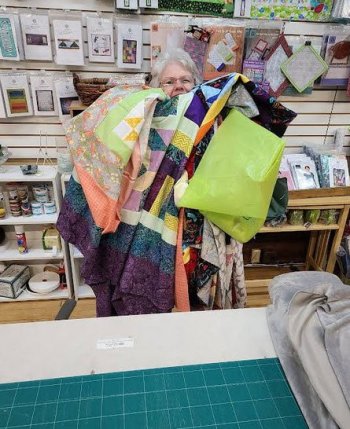 September 16-18 a few slots left- sign up here for Sept Retreat
October 14-16 now open for reservations- sign up here for Oct Retreat
Nov 11-13

now open for reservations- sign up here for

Nov Retreat


Birthday Club Reminder- We have MANY blocks turned in already but this is a reminder (to me also!) that blocks are due earlier than normal. We are having our party earlier too! Blocks should be turned in by October 31st and our party will be on December 2nd.
NEW IN THE STORE:

New fabrics, patterns and kits... We have rearranged the store so you will find all kinds of new things to see.

We have a few new patterns from Paisley Penguin Designs:

New Quilt Pattern
Fast and Easy Table Runner Pattern- We used our Moda Jr Strip Roll for a fun Christmas runner.
Bench Pillow kits come with all you need for a fun Birthday Gift & We restocked our wool pressing mats and fusing mats.
Looking for a new sewing, embroidery machine or a serger? Don't miss out of the great sale going on right now! Check out the Janome.com website or call us for more info! Just a few more days for this amazing sale!
Machine Service- Our schedule for machine services have been filling so quickly that we are now booking the end of July and August. Call ASAP (406.586.6097) to get on the reservation list and we will be able to let you know at that time what is available. For walk in-machines with out reservations, we do require prepayment.