MSQCo June/July 2021 News
Hello Friends of Main Street Quilting Company,

We have so many fun Spring and Summer happenings... it's hard to keep up with them all or remember what they all were. We've been having monthly mini retreats and it's been lovely having time dedicated to sewing. We had a Shop Hop at the end of April- it was exciting to see you all out and about- enjoying being in quilt shops again. We will have another in the fall if you missed our Spring Shop Hop. Dates are to be determined. If you've been following along on Facebook, you'll know w

e've had surprise sales, video update with the Shop Hop winner drawings and have been showing the newest additions to the store.

Like us on Facebook to see the most timely updates. In this newsletter, there are new classes, new kits and of course, new fabrics.

All this and other fun things are waiting for you below!




Have you seen our Main Street Quilting Co. video- it was produced by a very talented MSU student. We posted it online and also on our website home page. See it here.



Upcoming Classes:

Collage Applique with Leslie McNeil- June 25th
Don't miss out on Leslie's help with her gorgeous applique patterns. You will find many of them hanging in our store for inspiration. If you are new to applique or want help finishing your applique, this is the class for you. Spend the day learning the foundational elements and making your own wallhanging.





Foundational Quilting 101- Beginning Skills starts June 29th and goes through August 17th. If you are interested in brushing up on your skills or are completely new to quilting, this class is for you. We meet Tuesday evenings (better parking!) and you will walk away with many techniques for precision piecing and accurate quilt making.


Mending Fences- July 7th 4pm-8pm
Join Susan as she brings you a fun and easy quilt that takes scrappy to the next gorgeous level. You are welcome to bring a strip set or cut your own strips prior to class (Can you say "Stripology Ruler"?) Please see class list on the website when you sign up.
Chequamegon Meadows... Tree Block of the Month is now in class form. We have been making each class section into a video tutorial. Available in three colorway options... You can make this fun quilt using the Common Bias Rulers from Susan Ward's previous classes offered here at the store. When you sign up for the Block of the Month, you will be given video access to the videos, you will get your pattern and the fabrics to get you started on that tree section for the month. If you prefer to work in person, we have that option also- the last Saturday of each month starting in July. Work session times TBD. Check out our website's home page for a quick intro video!


Trees don't have to be just green do they?? Three colorways available:
Green/Cream, Red/Grey, Teal/White

How To Get Away With Quilt Murder Workshop- Join us for a time of creatively repurposing quilts. We all have quilts that didn't turn out quite right or maybe you have a quilt linked to a bad memory. You are not obligated to keep that quilt in it's original form. Let us help you repurpose them into something better- something usable all the while feeling better because you are rewriting quilt history. Susan and Gwen both have examples of quilts that have been repurposed. Two classes to choose from: June 26th or June 28th.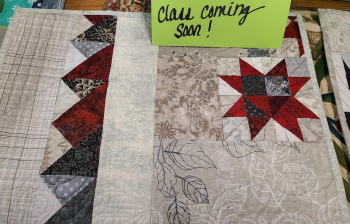 Mini Retreat- Friday July 16-Sunday July 18th- We still have a few spots open for this weekend of fun, food and laughter. Bring your own projects or choose one from the kit options listed below. You know we have the best pancakes in town!




Jelly Roll Rug- July 15th Back by popular demand, we will making this fun rug with a strip set and a batting roll. There's a bit of preparation prior to class, so stop in today and we can help you get started. Gwen has some helpful tricks and tips to make your rug beautifully made. Look at the lovely rug made in a recent class!



Half Square Triangle Accordion Sewing Class Saturday, July 10th- Gwen will show you a fun and easy way to conquer your dislike of HSTs... No need to draw lines, no need to stress! Sew them up in no time at all and make a quick and easy runner. Spend a cool afternoon in our classroom out of the heat of the day.

New Kits:

Begonia 72x72

Standing on the Corner 57x67
Kaffee Penny Quilt Kit 55x74
Harmonious Quilt 84x84
Fairy Tale Princess 45x54
Quill 86x93
Moda Love Layer Cake Quilt 70x70
Ring Around the Posies 64x64



We have new fabrcis in the store: Wovens, Flannel, Batiks and Novelty Prints and new Jason Yenter florals. We have been adding to our collection of wide backs and color wall fabrics also. Please see them on our website or better yet, stop in and get out of the heat! Have you seen this lovely coated fabric?? So many project options!!




Machine Service & Repair
Main Street Quilting Co. provides service and maintenance for ALL makes and models of sewing, embroidery and serger machines. Our expert technician is here on alternating weeks. Call 406-586-6097 to make a reservation for your machines day at the "spa". Please call early as our reservation list fills up fast!

Since last year, we are NO LONGER accepting walk in machines. Please read through the following to understand the new processes:

1. Phone reservation and email reservations are first come, first on the list. We will call you to confirm your reservation and gather all pertinent information at that time. Be prepared with make and model of your machine, what service is needed, your phone number, address and credit card information.
2. Machines need to be brought to our BACK DOOR through the alley behind the store and placed on the rack to the right of the door for sanitation.
3. Once service is completed, we will call you with the service information and charge your card at that time. We will then have it on the rack at the backdoor for pickup.

NOTES:
*Once a reservation slot has been given you, there will be a $30 fee assessed if you cancel 7 days prior to the service date or if you are a NO SHOW for your appointment. *Credit Card numbers are held on file until all service is completed and shredded upon processing.
*Machines left with us for 60 days are considered abandoned and will become property of Main Street Quilting Co.
Current Hours:
Monday - Friday 10am-5pm
Saturday 10am-4pm
Come visit us in person at 128 E Main Street in Bozeman MT
or online @ www.mainstreetquiltingco.com
406-586-6097