Main Street Quilting Company News Feb/March 2021

End of February... I am in constant amazement at how fast time is flying. I know I've said it often enough but where do the days go? There always seems to be a flurry of activity and a long list of things to accomplish. I'm looking forward to sharing what we have had going on here at the store and there are a few fun things coming up that you won't want to miss. Read to the end ;)
Mystery Quilt Class: We've held two Mystery Classes this year so far and both were fun to see the clues all come together. Want to join us for the next mystery? Gwen already has a pattern that she is working with to make into a mystery. Let us know if you want to be on the "call" list when that mystery class is ready to be set up. 406-586-6097 Feel free to leave a voicemail with your name and number! Here's a sort of a photo of what we did in January- still have to keep a mystery you know!
UPCOMING CLASSES AND EVENTS: Here's what's happening. Sign up online or call us to reserve your spot. 406-586-6097 or Class Schedule Link Here
March 10- Free Motion Quilting Class- ONE SPOT LEFT
Join us with your own sewing machine to learn how to free motion quilt! Class fee supplies the foundation on which we will be sewing. Please bring a scrap at least 36" of batting to class and a bright colored thread along with your darning (also called: hopping or free motion) foot and your machine. Don't forget the power cords :)
Foundational Learning Class 101- Quilting Basics: We are nearing the end of our first Quilting Basics Class in 2021. We will be scheduling another 7 week session starting in June. This is a good class for those wanting to learn the basics of quilting. We will be making a 12 block sampler. Sign ups are available now on our website.
Birthday Club 2020-
I heard from some that having sewing to do for the Birthday Club was a great way to pass the quarantine we had last year. What a fun get together we had a few weeks ago. Thank you to everyone who braved the cold weather. You are truly Montanans! It was exciting showing off all our blocks, admiring the handiwork and getting more ideas for next year. I got so excited about my own blocks that I added a few more and finished it that weekend and it's off to the quilter!



Birthday Club 2021: We have two more places available in our second group for the 2021 Birthday Club. Need more details? Call us! 406-586-6097 Need ideas for blocks? We have two great resources... found on our website.




NEW FABRICS AND PATTERNS: To see the most up-to-date arrivals- please turn on your notifications on Facebook from Main Street Quilting Company. We are posting more frequently than the newsletter is published.

YELLOWSTONE Line from Henry Glass: Paw Prints, 2 different panels, coordinating prints and more!



Moody Bloom Bedding Panel from Moda- Easy to complete projects all in one package!




There are a lot of Coordinating Fabrics- These are just a few:


Patterns:



From Mr Domestic and Art Gallery Fabrics- Snow Day We barely had this out of the boxes and it was flying to people's homes! There are still some bolts left and you will want to grab them quick!




New Primo Plaid flannels are SOOOOO soft!



Spring Brook- Corey Yoder Line from Moda- Such a sweet line of lovely soft colors. Another line barely on the shelves and we are already sold out of a few bolts!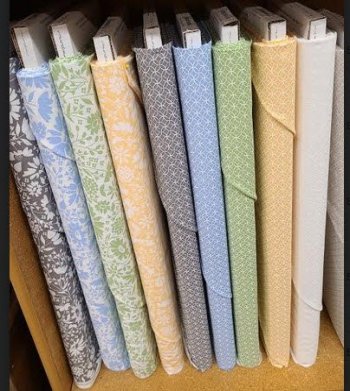 New this week- Floragraphix V from Jason Yenter and In the Beginning Fabrics: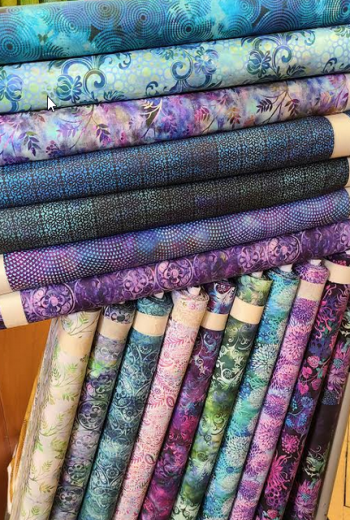 NEW Program: Kimberbell Fill-in-the-Blanks program has started. We have the first quarter blanks in the store and we are currently stitching out samples. This fun program is an easy way to make a fun and easy gift or just to spice up your own decor.

How It Works: Each month there is a new "Blank" for purchase. Each project has a free embroidery design. Don't have an embroidery machine? No Problem! There is also a sewing version of the design available with the "Blank" purchase. The Free Designs will be emailed to you upon purchase of the Blank. Using your own stash and threads you will complete the adorable project in no time! If you need help choosing fabrics or thread colors, we'd love to help!

January 2021- 17 x 15 Tote Bag (or Binder cover or...) "Sparkle Like You Mean It" Available Now




February 2021- Ombre Tea Towels "Life Is Short, Eat the Cake" Available Now



March 2021- 12 x 15 Tote (or Easter Basket) "Cotton Tales" Bunny Busket Available March 1st



In Other News...

We are still in a global pandemic (as if we really need to reminded, right?) This fact does, however, impact quite a lot of our world here at the quilt shop (and retail all over): Delayed shipments, unavailable parts, reduced hours, etc.

Parts for sewing machine repairs are probably the most delayed we've ever seen. I've even had kits from Moda back ordered for 4 months! It's a frustrating situation all around. We appreciate your patience and kindness, especially now.





In our store, we are still social distancing and using our face masks when we are within 6 feet of customers as per the CDC guidelines. We request you use the hand sanitizer located at the front and back doors. Our classroom is closed to the public but will be open only by invitation or registration into a class. We will also continue with our precautions in regards to the sewing machine repair dept of our store. Please see our Sewing Machine Policy adopted in 2020 (and to continue indefinitely) below to refresh yourself of those guidelines. Thank you!



Machine Service & Repair
Main Street Quilting Co. provides service and maintenance for ALL makes and models of sewing, embroidery and serger machines. Our expert technician is here on alternating weeks. Call 406-586-6097 to make a reservation for your machines day at the "spa". Please call early as our reservation list fills up fast!

DUE TO COVID-19- we are NO LONGER accepting walk in machines. All machines for service must comply with safety processes put into place by Main Street Quilting Company. Please read through the following to understand the new processes:
1. Phone reservation and email reservations are first come, first on the list. We will call you to confirm your reservation and gather all pertinent information at that time. Be prepared with make and model of your machine, what service is needed, your phone number, address and credit card information.
2. Machines need to be brought to our BACK DOOR through the alley behind the store and placed on the rack to the right of the door for sanitation.
3. Once service is completed, we will call you with the service information and charge your card at that time. We will then have it on the rack at the backdoor for pickup.

NOTE: Once a reservation slot has been given you, there will be a $30 fee assessed if you cancel 7 days prior to the service date or if you are a NO SHOW for your appointment. Credit Card numbers are held on file until all service is completed and shredded upon processing. In case of failure to pickup machine within 30 days of service, we reserve the right to charge your card for service completed. Machines left with us for 60 days are considered abandoned and will become property of Main Street Quilting Co.


Great News!!
NEW HOURS: Starting in MARCH 2021


Monday-Friday 10am-5pm




Saturday 10am-4pm



MORE Great News!!!You will not want to miss this... Deep Discount Coming your way!!

We are having a SKINNY BOLT Facebook Live Sale TOMORROW morning @ 9am Bozeman time. We will be clearing out 25+ bolts to make room for the new stuff we now is coming.(as in more Kaffee Fassett- Whoo Hoo, more basics, more flannels... the list goes on!) If there are any bolts not sold between 9am-11am, they will go on our sale shelves at 25% off
See you tomorrow!