MSQCo News- June 16, 2020


Welcome June and July- Finally some nicer weather to be outside and enjoy the fresh air! (I started this last week when the sun was actually shining and snow wasn't forecasted for tomorrow) We have had a few nice nights out on our deck enjoying our gorgeous Montana Sunsets! My hubby tells me there is also this thing called sunrise but I don't believe him. It's too early for this girl :)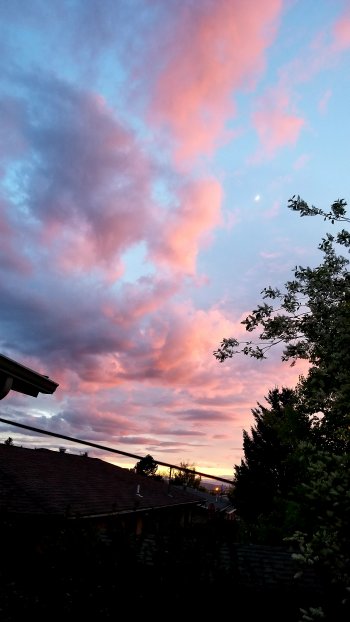 We have a lots of new things in the store and I will put just a few of them in this newsletter. So read to the VERY end!

Please note we are expanding our hours to be more consistent and to eliminate confusion. Our hours as of Monday June 22: 11am - 4pm Monday through Saturday. We hope to add Sunday hours next, in July, if our COVID numbers stay low in the Gallatin Valley. Please help us by using the hand sanitizer provided at both doors, masks are optional but NO gloves, food or drink in the store. Thank you for your assistance!



Retreats and Classes:


Our April 2020 Mini Retreat has been rescheduled to June 26-28th: Friday afternoon - Sunday afternoon with Friday night dinner and Sat/Sun brunches provided. If you have signed up for this- Gwen is seding out a separate info email this week.
Space is limited to 10 for this retreat and 12 for the fall retreat. We will add more dates as interest grows. Our retreat is full but if you are interested in the fall retreat - please email us at info@mainstreetquiltingco.com.






Foundational Learning Class 101- Quilting Basics: One of our favorite classes was offered this summer in a shortened time frame and it was a success! This is a good class for those wanting the basics of quilting. We will be offering this again starting on July 21- August 25. Call today to sign up or sign up online @ www.mainstreetquiltingco.com



Interested in learning a reverse applique process? Katie worked on these gorgeous samples and played with her quilting rulers at the same time. We are looking to schedule a class this summer. Please email us ASAP so we can get this scheduled.

Have something you want to learn?
Gwen is currently working on dates for more classes to be offered this fall. If you are interested in a specific class- please email us at info@mainstreetquiltingco.com

Machine Repairs and Service: Cameron, our expert technician, has been running completely ragged with the amount of machines we are taking in for service and repairs. We try to accommodate as best as possible each person who calls with a repair and service need. We have taken in 5x the amount of machines we normally do each month (seriously not even a slight exaggeration- I counted) We ask for your patience as we work through the high volume of machines each visit.

When your machine is here for service, we know you are impatient to get it back to sewing. We will call you when it's time to pick up your machine. In other words, please do not clog our lines with phone calls until you hear from us. We have had to find a way to streamline the processing of machines for the sales staff and for Cameron. Which means don't call us, we call you.

Now Booking July 10th and July 24th- call us today! 406-586-6097

DUE TO COVID-19- we are NO LONGER accepting walk in sewing machines for service or repairs.

All machines for service must comply with safety processes put into place by Main Street Quilting Company. Please read through the following to understand the new processes:

1. Phone reservation and email reservations are first come, first on the list. We will call you to confirm your reservation and gather all pertinent information at that time. Be prepared with make and model of your machine, what service is needed, your phone number, address and credit card information.

2. Machines need to be brought to our BACK DOOR through the alley behind the store and placed on the rack to the right of the door for sanitation.

3. Once service is completed, we will call you with the service information and charge your card at that time. We will then arrange a pickup date with you.

NOTE: Once a reservation slot has been given you, there will be a $25 fee charged if you cancel 4 days prior to the service date or if you are a NO SHOW for your appointment.

Thank you for your understanding!


Now for the New Fun Items:



Digital Minkee- so soft!




We have TUMBLERS on order- they have shipped and will not last long on our shelves, as we have already heard from a number of you that you would like one. These are great insulated tumblers that come with a lid! Order online @ www.mainstreetquiltingco.com Search for tumbler and see the four colors we have coming! Quantities are limited.

Tahoe Ski Week Pre-cuts!


Tahoe Ski Week Jelly Rolls in store right now




Layer Cake (10" squares) and Charms (5" squares) shipped today

Bolts of this line are on order and will be here ASAP.




We have new Scrap Bags from Moda- Each bag has a collection of coordinating scraps that have been cut off from kits or pre-cuts at the Moda factory. Grab a few for your next project.



Digital Brights from Quilting Treasures. These are great blenders with a little POP of color!



We've been restocking the white on whites, neutrals and grunge colors!



Batik Pre-cut Strips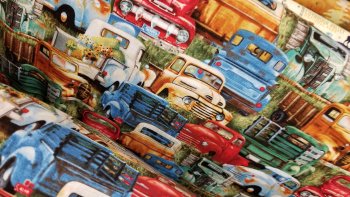 Another round of Vintage Trucks



For the Horse Lover... "Horse Abstractions" Quilt Kit



Lexi Fabric Pre-printed Panel for the Runaround Bag. Each panel makes two bags!



Brightly Blooming from Moda. This line is not going to last- It's so pretty, I've already reordered some of the pieces.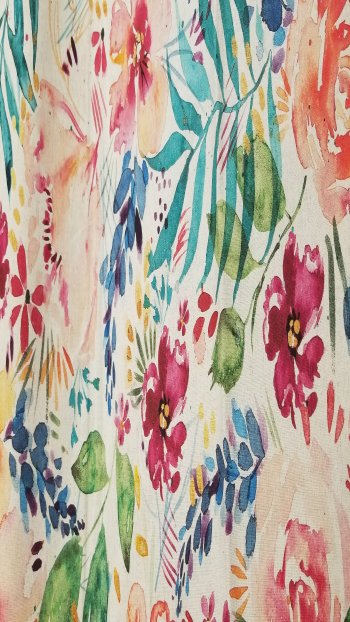 Linen!!

I'm working on a great kit for this line- Soon to be revealed.
Just you wait- it's an easy one but stunning!
Love this line? Are you adventurous? Pre-order the queen sized kit early and I'll send along a treat in your kit! Call for more info! 406-586-6097

One last reminder- As stores are reopening- give a little grace, be less judgmental. We have all different battles we are fighting. Thank you for supporting us and keeping your dollars in our community by shopping SMALL BUSINESSES. Grace & Peace.




OH! And since it's my email letter, HAPPY BIRTHDAY tomorrow, June 17th, to my Momma, Gloria- who supports and loves and gives and never complains and gives some more every single day! And who forgives me when I get the date of her birthday wrong and when I tell her I don't need her to call me to remind me of daylight savings time, but I really do. I love you mom! gw