Main Street Quilting Co Update- April 24th 2020

Hello!! Governor Bullock announced we could reopen our retail floor starting next week. (You can read more about Montana's phased reopening plan here) That's good news! Since this may feel a little early for many, myself included, we will be reopening slowly and with restrictions. We do ask a few things of you to help keep our unique environment clean and safe for yourself and others:

NO GLOVES- We cannot allow gloved hands in the store. We are sanitizing the door handles and hard surfaces on a regular basis but cannot clean the fabric nor wipe down soft goods. For that reason, we have to require customers who come into the store to use hand washing and hand sanitizer techniques to keep germs at bay. We will have sanitizer available at each door and ask that you use it upon entering. CDC tells us that it may be possible that a person can get COVID-19 by touching a surface or object that has the virus on it and then touching their own mouth, nose, or possibly eyes. This is not thought to be the main way the virus spreads, but we continue to learn more about this virus every day.

Wash your hands

often with soap and water. If soap and water are not available, use an alcohol-based hand rub.

CAPACITY LIMITS - I'm sad to say it 'cuz I want EVERYONE to come in ALL AT ONCE but we will have to limit our capacity to 4 people at a time in the store. This will help us all keep a good 6 ft distance between us. With the narrow store aisles - this might be a challenge but we can work together to be aware of social distancing methods. Be aware we can only have one staff member in the store behind the counter due to its close proximity. Please be patient with us as we work through this challenge.

MASKS - We are not requiring masks in the store but feel free to wear one in the store. CDC recommends wearing cloth face coverings in public settings where other social distancing measures are difficult to maintain (e.g., grocery stores and pharmacies), especially in areas of significant community-based transmission. CDC also advises the use of simple cloth face coverings to slow the spread of the virus and help people who may have the virus and do not know it from transmitting it to others.

SHORT TERM SCHEDULE:
For the week of April 26-May 2nd: We are doing another deep clean of the store and counting inventory. We will not be open to public walk-ins. We will not be able to get to the phones in a timely manner, so please leave a voicemail and we will call you back ASAP. We will still be taking online orders for shipping and pickup! Shop Online Here

Starting Monday, May 4th we will be open for limited hours for walk in traffic. We are shortening hours so we can have time for those who have immunocompromised systems and need to shop with little exposure to others. We will still be available for curbside pickup (at our backdoor) and delivery. Call us for an after hours shopping experience. We are here for you!

Monday-Friday: noon-3pm walk in traffic only
Sat: By appointment only (call by Thursday for a Sat appt)
Sun: Closed
ONLINE ORDERING will still be available 24/7


Please keep in mind we are in the midst of a constantly changing situation so while we are implementing these measures right now, they may change day to day as we continue to learn more. We will continue to keep you informed by email. If you know of someone who needs to be on our emailing list, please let us know.



MACHINE SERVICE:




We know you are sewing like a sweat shop! If your machine needs help - let us know. Cameron is here this weekend (April 25th) for service and repairs, he will be back on May 8th and we are already half filled for the May date. His reservation list fills quickly every month and we are booking the few remaining May dates now, so call today to get a reservation. Since we are doing things differently, we will be getting all your info over the phone when you call. The machines then can be dropped off at the back door at the appointed time. 406-586-6097


ELASTIC: We have heard that our order of 1/4" elastic is on the way... I have no real idea when that will be delivered but we are ready! We have 5 yard bundles available for preorder on our website. Limit two per person please.




Speaking of pre-ordering... We have sold out of the Vintage Trucks fabric (see print below) We are taking pre-orders for the next shipment which I was told should be around the end of May. Feel free to order online. Your order will be cut first and distributed prior to it being available for the general public. If you missed out on the first run- get it now. It's such a good one!




Thank you everyone who made our Novelty and Holiday Live Sale a great one. Look at this great helper- I'm so thankful my niece was able to learn how to "run a sale" yesterday. I'm sure she should get high school credits for this right??






COMING UP!



For the Month of May (on Thursdays), we will be doing more LIVE Facebook Sale videos. We will be announcing what the next sale items will be during the video so if you tuned in yesterday...

You know that we are having a Batik pre-cut sale this Saturday afternoon @ 4:30pm. (Yes, that's tomorrow!) Tune into the Main Street Quilting Company's Facebook page a bit before 4:30pm. Be sure to say Hi so I know you've joined us! Remember- First to comment gets it so join us early. Quantities are limited.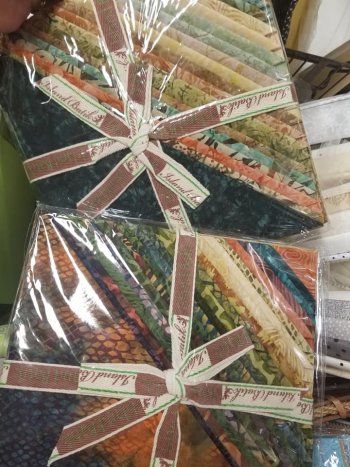 CLASSES: We will be starting again with classes but in a smaller class size environment. Please note date and time changes of the classes to accommodate our new schedule.

Jenny's Apron Class- May 2nd
We'd like to do an online class for this cute apron. Please let us know this week if you are interested! 406-586-6097

Mystery Quilt Class:
Our Mystery Weekend has been rescheduled for MAY 8-9th Friday 5:30-9:30pm and Sat 9am-5pm
Are you ready to make something other than masks?? Are you ready to get out of those 4 walls and have some fun?? There are two spots available. I know a mystery quilt can be scary at times but we will be walking through all the steps together and this is a great quilt for all skill levels from beginner to advanced. Come and join in the fun- we will snack and sew our way through the Friday evening session and start Saturday morning with Brunch! Here is a sneak peak at my colors... I love this Uncorked line and am excited to use it! Lights and Darks are all you need- Don't miss the fun of this one- sign up online: www.mainstreetquiltingco.com
4 1/2 yards Darks fabrics needed so I choose a variety
4 yards lights needed so I choose these lovely colors
Serger Fun Day: Back by popular demand, we will gather our sergers and supplies and sew together. Gwen will give tips and tricks to help make your project successful. Weds, May 13th 8am-11am




Foundational Learning Class 101- Quilting Basics: One of our favorite classes is being offered again with a summer session starting May 26-June 30 This is a good class for those wanting the basics of quilting. This six week class covers the same curriculum as the 12 week class but shortened for the summer.



Applique Basics- Have you got a pattern that calls for Applique and are not sure where to start? Or maybe you need a bit of help to get over the hump with your project, we're here for you! Wednesday, May 20th 8am-11am




Free Motion Quilting: This class walks you through the basics of quilting on your home machine. We cover it all from the best batting for your project to the correct needle to get the best stitches. Class fee includes your practice starter pack. Wednesday, June 3rd 8am-11am

Birthday Club: How are your blocks going? I have already had ladies turn in blocks for both of the groups they are in. (I need to get my act together!) If you haven't picked up your fabrics, please call us and we can have them ready for you!