Skip Navigation
Website Accessibility
MSQCO News- March 2020

March already? I know I say it often but time seems to be flying and we are gearing up for Spring Classes. We've planned into the Summer and Fall so keep posted for new items on the calendar. Sign up online and we will offer a deeper discount on your class supplies. Click this link to sign up: Class Sign Up


CLASSES AND EVENTS:


Foundational Learning Class 301- Advanced Quilting: We are offering another session of this fun and challenging class. Advanced Quilting is offered to those who have taken our Beginning and Intermediate Foundational Learning classes. Sandee B sent us a photo of her quilt- I love her version with golds, grays, and black and whites. If you have taken this class, please share your photo. Class size is limited so sign up early! Sept 10-Nov 12 Cost of class includes book and basic foundational supplies provided in class.




Foundational Learning Class 101- Quilting Basics: One of our favorite classes is being offered again with a summer session starting May 26-June 30 This is a good class for those wanting the basics of quilting. This six week class covers the same curriculum as the 12 week class but shortened for the summer.


Serger Fun Day: Back by popular demand, we will gather our sergers and supplies and sew together. Gwen will give tips and tricks to help make your project successful. Weds, March 25th 10am-3pm




Mystery Weekend- Join us for a fun mystery weekend! I know this mystery quilt idea may push you out of your "comfort zone" but you will learn new techniques and I promise the finished quilt is a good one! March 27-28 Friday 6-9pm- Saturday 9am-4pm



Applique Basics- Have you got a pattern that calls for Applique and are not sure where to start? Or maybe you need a bit of help to get over the hump with your project, we're here for you! Friday, April 10th 12pm-5pm




Free Motion Quilting: This class walks you through the basics of quilting on your home machine. We cover it all from the best batting for your project to the correct needle to get the best stitches. Class fee includes your practice starter pack. Tuesday, March 28th 10am-1pm or 6-9pm

Spring Shop Hop- Mark your calendars for our Spring Shop Hop on April 23-25. More info coming!




Mommy and Me Class- Jenny's Apron: Just in time for Mother's Day, this class is not just for moms and kiddos but for for all who want to take this class with a friend, grandchild, or niece/nephew. May 2nd 10am-2pm

New Items:





Block A Day Book- We sure like this book and use it often. Sadly, it is out of print and unavailable through our normal avenues. With that said, we have been working with the publisher to get more of this wonderful book published and sent to us. It is a longer process than I had hoped but we are still working on this project. If you have one reserved, you will be the first to get yours when they arrive.



NEW BATIKS



NEW WIDE BACK BATIKS



OUTDOOR and LANDSCAPES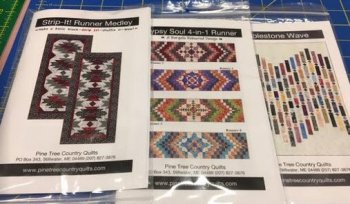 NEWEST PATTERNS


-=-=-=-=-=-=-=-=-=-=-=-=-=-=-=-=-=-=-=-
MACHINE SERVICING: Cameron is coming again for machine service on March 13th. His reservation list is partially filled already so call today to get your slot. 406-586-6097


Would you be willing to give us some feedback? The survey below would take a quick few minutes and we would very much like to hear from you.
https://www.surveymonkey.com/r/KVSM3PC