Cyber Monday at MSQCo

Happy Holidays! We have had a gorgeous, fluffy dumping of snow and even though there is shoveling involved... it's a beautiful time of year. We put up our window and got photo bombed by Champ's cute face. But since we are in the playoffs... GO CATS!

Our trees are decorated and we are ready to help you with your last minute shopping and project completion. Here are a few of the upcoming events that can get you in the Holiday Spirit. If you cannot make it to the store today or tomorrow... Here's a little Cyber Monday deal for you!
CLASSES & EVENTS-
December 3rd and 10th final two classes of Foundational Learning Classes for the Intermediate Group. Ladies, We are finishing settings and borders so please have it all cut and ready to start assembly. If you have taken the Beginning Series of classes and are ready to move on to more intricate piecing and more challenging patterns, this class if for you. We have a new session starting Spring of 2020 so let us know you are interested.
December 4th Serger Sew Fun Day- Call for a list of supplies to bring. Your serger must be in good working order.We'll be showing you how to construct a garment from our knits or the new rayon fabrics we got in recently.
December 5th and 12th final two classes of the Foundational Learning Advanced Class Series. We will be completing our final block (paper piecing) and talking through the curved borders. Have you completed the Intermediate class? Ready to hone your skills even more? Sign up for the Advanced Class!
December 7th- Jelly Roll Rug Class- We will be showing you how to assemble this rug so there is a bit of work ahead of time to complete. Call us today and get registered. We have what you need to do your prep work.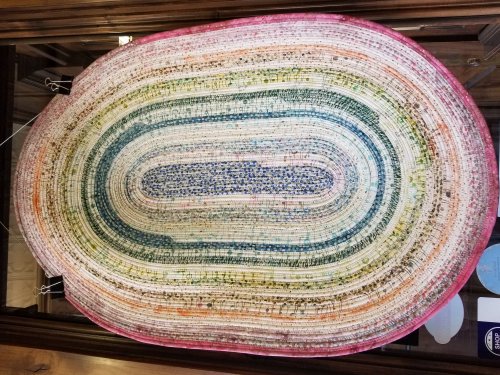 December 7th Christmas Stroll- We will be open until 7pm. Stop in and see what quick gifts are available for the quilters in your life.

December 31st- Birthday Blocks are due!! Be sure to come in and register for the 2020 session of Birthday Club. We have room for more in our second group. Grab a friend and join us!

January 10-12 Mini Retreat- We still have a few spots open in this retreat. Stay in your own bed and join us for a fun weekend of sewing, eating and lots of laughter! We start Friday afternoon and sew until 9pm. We provide dinner on Friday night and brunches on Saturday and Sunday. Saturday and Sunday we open the doors for retreaters at 8:30am. Saturday night we head to a local dinner spot. There is so much time to work on projects, to get help from Gwen and others... and to learn something new along the way. Sign up today!

January 28th- Foundational Learning Series- Learn to Quilt class starts. Our evening class has filled but if you are interested in a morning session - Let us know ASAP, we are considering opening up a time slot. This 12 week series is a great way to learn new techniques to make those traditional blocks. We will work through a variety of tools and techniques that we use in our all Foundational Learning Series Classes.



New in the Store- Just a few of the many new things coming in weekly.
Our Newest color of the Yellowstone Park fabric is here. We made new kits and the colors are pretty cool. Yellowstone National Park Poster like fabric is also in. What good timing that it's all here at once!





Christmas Wish List- We are able to put notes into our system when you tell us what you want Santa to bring you for Christmas. Let us know and then send your loved ones in. We've already been wrapping gifts for those who have been shopping early.


Holiday Hours
Wednesday Nov.27th Open 10am-3pm
Closed for Thanksgiving Nov. 28th
Christmas Stroll Dec.7th Open 10am-7pm
Christmas Eve Dec.24th Open 10am-3pm
Closed for Christmas Dec.25th
New Year's Eve Dec.31 Open 10am-3pm
Closed for New Year's Jan. 1st


Machine Service- Cameron will be here the following dates in December: Dec 6th and 20th. His schedule always fills quickly so you if you need your machine serviced, now is a great time to get on his reservation list. 406.586.6097