February 7, 2019 MSQCo Snippets
This morning I opened the refrigerator and realized how warm it felt compared to the -11 degree of the outside. I suppose it's all perspective! We have a few fun upcoming classes that you will not want to miss and some new fun SPRING fabrics that will help get over this crazy deep freeze we are having. Read on!



We were so busy in January- we are now just catching our breath. Thank you for supporting us and bringing in you RED ENVELOPES. What fun we had opening them and seeing what treasures they held. If you missed it in 2018, mark your calendar for this coming December- we'll do it again!



CLASSES:
Watch for next weeks newsletter regarding our upcoming class schedule.

NEW IN THE STORE:


Porcelain from 3 Sisters- Such a sweet romantic color palate, fresh for spring.



On Meadowlark Pond- These precuts from Kansas Troubles are going quickly. They are the same rich colors you love that are truly Kansas Troubles colors.



Star Stripe Gatherings from Primitive Gatherings - we have a few of their great coordinates in the store.



Sweet Violet precuts are Jan Pattik's lovely purples, greens and tans. What a lovely Jelly Roll Rug this would make!



This Butterfly collection is a sweet and springy reminder that the Butterflies will soon be back!



Color Weave from Moda is going fast. We picked up a few great blenders!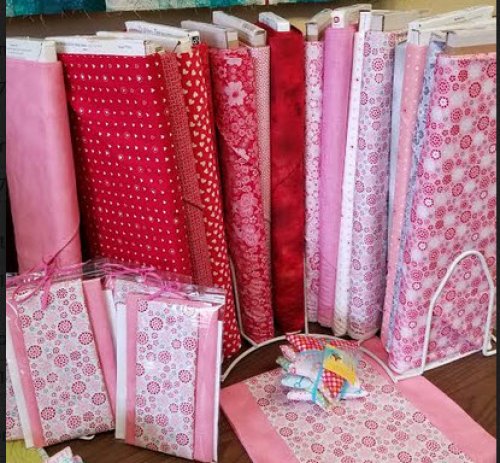 Not too late for Valentines Day- This 10 minute runner is such an easy addition to your table!



Easter is right around the corner. It's hard to find good Easter fabrics but this line is a great one!


COMING SOON!
New Block of the Month (our Block of the Month will also be sold as a complete kit if you choose.) This gorgeous applique quilt will will include sashing, border print, and binding from the lovely new MacKenna Ryan collection coming this spring. Call today to pay for your registration on this BOM. We have a limited quantity and a few have been spoken for already! Registration cost: $35.00



NEW KITS:
Adventure with My Tribe- This adorable quilt is being kitted with our own fabrics. Colors will be similar to the photo. Perfect for that nursery or toddler's room.



This Bear Welcome banner kit is another great offering from MacKenna Ryan that we have ordered and will be arriving in the next month or so. Be Bear Aware- Call us today is you want this kit. It's already getting a lot of attention!

UPCOMING EVENTS-

Downtown Bozeman Crazy Days- join us on Friday- Monday, Feb 14-18 for a great Winter Crazy Days! We are blowing out a lot of fabric, kits, patterns and so much more! You won't want to miss out. If you bring in your MSQCo logo green (Chico) bag you will be entered in for a special drawing. Come early for the best deals!!

Service Technician Here- February 22 I've been filling up Cameron's list to overflowing lately. We are only taking 20 people this time. We already have 12 people with a spot reserved. Call us today to get on his list: 406-586-6097

Birthday Club Party for 2018 Group One and Two- I am excited to see you on Friday, March 1st @ 5:30pm. Plan to come and ruin your dinner with cake, coffee and other treats. If you have not yet RSVP'd please do so by email or phone so we have a good idea of who is coming. If you are one of our wonderful Out Of Town Birthday Clubbers I will be sending your present early that week so you have it on Friday!

Birthday Club for 2019- We have FOUR groups going this year and I am tickled! We have all fabrics in for 47 people. This is amazing! Stop in and pick up your fabrics if you have not yet done so. Remember you can (read should) bring in the blocks as you complete them to make our housekeeping of this program easier. Plus... you won't have to worry about them! Make your calendar now for the 2019 party on February (exact date to be sent to participants only).

Spring Shop Hop 2019- watch future emails for more info on the Spring Shop Hop in which we will be participating. This year there will be new and fun things you won't want to miss!

WINTER HOURS-
M, T, TH, F 10-6
W, Sat 10-5
Sun 12-3