Fall 2018 News from Main Street Quilting Company
How does it happen that the summer is on the downward slide into Fall? I must've blinked! Nobody wants to hear it, but Christmas is only 17 weeks away. With that said, we have some really awesome Christmas and Winter items new to the store. There are new classes scheduled for the upcoming weeks and even a machine sale you are not going to want to miss! Hold onto your flip flops-Our Fall Newsletter is packed full of goodies.
Birthday Club Reminder! If you're a part of the Birthday Club and you feel like you've been forgetting something, when was the last time you picked up or dropped off a month? All blocks are due in April of 2019.
Batting on batting on batting! If you haven't finished that project because you don't have the batting, we've got your back! A new order of Dream Cotton, Dream Wool, and Dream Green just arrived.

MSQCo Shirts If you haven't gotten one of our uniquely Main Street Quilting Co Montana shirts, now would be the time to pick up your size. We have a new color- It's a little more blue but still the same great design. Just arrived today- They're already going fast!


We have new Janome machines in! If you're in the market (or if you're wishing you were) come on in and ask us about their features and just why they're such great machines.
Just in time for winter projects, here's what's new in kits, patterns, and fabric:
Sweet Holly Candle Mat- New from Plays with Wool!



New Christmas and winter fabrics - Six new lines! Including metallic batiks and cute little penguins. There is literally something for every winter project you can think of!



We also got in a shipment of some fresh white on whites: from left to right we have dots, triangles, pound signs, berries, snowflakes, circles, and scribbles.

Since September is just around the corner (literally!), we're having a fall fabric sale! Three days only, 40% off all fall fabrics! Only Friday, Saturday, and Sunday, August 24th - 26th.

Have you seen our bright window display yet? That line makes this colorful ombre confetti metallic quilt. We have ombre confetti dots on the bolt, in jelly rolls, and in the kit. This line is flying so come get it while it lasts.



Linen Picnic Kit - available now! This linen blend fabric washes beautifully in cool water, mild detergent and line dry. You'll get a lot of use out of this fun quilt.

3 New wide back batiks - Pinata, Cosmos, and Graphite



Welcome back, Bobcats! The Big Love Kit is showing some Bobcat pride with this new blue and gray combination.



We have been waiting and waiting these new Wool Pressing Mats- They are finally here!! We have the 17" x 17" size. Come and see what all the buzz is about!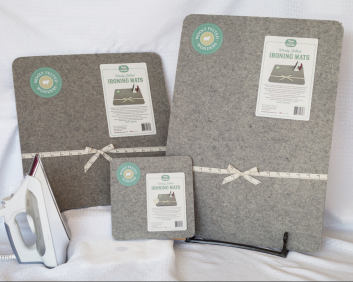 Speaking of new things, we have a new block of the month coming up, Mineral Matrix. The fabric is shipping in September and we will be cutting kits shortly. You've got to see this one- it's gorgeous! Sign up now online or by calling us @ 406-586-6097! Registration fee is $35.00.

Upcoming Classes:

Back to school isn't just for the kiddos and college students! Go back to class and join us for fun projects starting this fall.

T-Shirt Quilting: October 5-6th Friday/Saturday Cost: $50

Jelly Roll Rug Class: September 21-22

Back by popular demand, take two days and learn how to make this super cute, super easy rug! All you need is one pattern, one jelly roll and 2 rolls of batting strips! There is prep work prior to the class so come in and get your supplies today. Cost: $50
PIR Days Kid's Class:

October 18th and 19th in the mornings, 10-1 both days. We'll be working on fun things like pillowcases, easy doll blankets, or place mats. Kids should have a good working knowledge of their sewing machine. Call us to sign your kiddos up. Cost: $30/day
Crazy Quilt Class with Susan Ward:

Oct 24-25, 10-4 both days. This class is a great way to utilize those buttons, kerchiefs, and old scraps from your grandmother you've been hanging onto. Stop in and see what Gwen's Mom made with her Grandmother's hankies and handmade embellishments. Cost:$75 plus supply kit
Hand Applique with Wool: We have a new felted wool bag that you will not want to miss. Gwen will show you how to embellish it with wool, buttons, beads, etc. You are welcome to bring whatever wool project you would like to do in class. Tuesday Sept 18 2-5pm Cost: $35
Long Arm Class:

September 11th Tuesday Morning 11-2pm- Come learn how to use our longs arms and then be qualified to rent them. This is a great way to get those Christmas projects completed.

Cost: $50 supplies included



Lunch and Learn- - - Second Wednesday of the Month- - - Sept 12: Fun and Fast Receiving Blankets 12-12:45
There is a new trick to this receiving blanket we are dying to show you! You'll never want to use another pattern once you learn how to make this receiving blanket. Quick, cute, and oh-so-easy, we'll be offering a how-to while you eat your lunch. Can't make lunch but want to learn our technique? Let us know, we are thinking on a good time for the after work crowd!

Cost: $5.00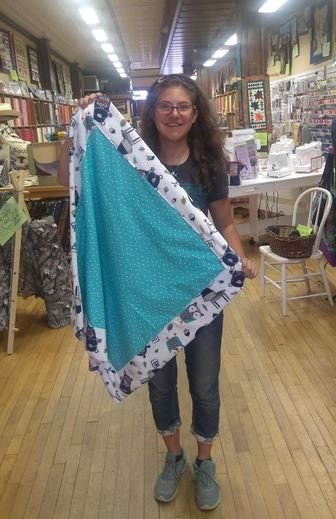 Quilting Retreat: Come join us for a few days in late October to work on projects, learn new things, and hang out with a great group of ladies! We have a new retreat venue this year. Call to sign up now 406-586-6097. Registration Fee: $100
Beginning Quilting Full Session- 12 weeks- starts September 11th sign up now!!

Make your own sampler quilt in twelve 3hr sessions! When class is completed, you'll be ready to tackle all those projects you've always wanted to create!

Evening Session Tuesdays from 6-9pm Cost: $150 + supplies
Intermediate Quilting- 14 weeks starting August 16th

Sign up now!

We have a few spots left.

If you have taken any of our Beginner Quilting classes, you are ready to move on and advance your quilting skills. We will be using the book "Red at Night" and building from what you learned in BQ. There are fourteen 3hr sessions! Cost: $175 + supplies






Don't neglect your machines this fall- Get them all tuned up and ready for those classes and winter projects. We can service and repair ALL makes and models of machines. Call today to get on Cameron's service reservation list. 406-586-6097