Skip Navigation
Website Accessibility
MSCQo Spring News 2018
Spring Fever! I have it in droves... I want to plant my flower beds and I want our neighborhood bunny to find new blades of grass springing up in the yard. I want to paint and clean and create with beautiful colors. I certainly am having Spring Fever~You will see evidence of it in this newsletter... It is coming out in our projects! Please note a change in Sunday hours below.

Bobcat Paws are here~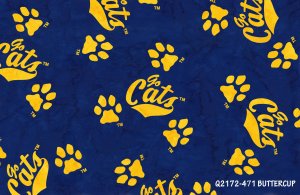 Save the Dates- - - Spring Fever Shop Hop- - - April 19-21



- - - - Classes and Events- - - -

Stash Busters-

Join us MONDAY Night for a fun way to use up your STASH!!

Scheduled for the l

ast Monday of each month, n

ext class: March 26 @ 6pm. Bring your stash and use it up! Call us today so we can save you a seat in the class and a piece of pie!

Cost: $25

For March Class: We'll be making a table topper. Call the store for details on what to bring when you sign up for the class.


Finish What You Started Fridays: March 23, 30, *Note: No dates in April


Get help finishing those projects you've had on the back burner or work on those Christmas projects. We'd love it if you called us ahead of time so that we have a head count. Cost: $10 for classroom use. Machine also available for rent in classroom for $15/hour (one hour min.)
Kimberbell Embroidery Class- Embroidery classes for all makes and models of machines. We have a Kimberbell Dealer Program with exclusive designs that you will not find in her "over the counter" collections. You will not want to miss the fun. Class fee plus kit required for each class. Bring your machine, stabilizer, threads and USB stick. Cost: $10 + kit. Held the last Weds of each month @ 10am- next class: March 28

Supplies Needed for Feb Class: Machine, USB stick, Embroidery Scissors, Thread




Magic Triangle Topper Class-

Newest popular pattern from Cut Loose Press uses a few fat quarters and the 10 degree and 60 degree rulers from Creative Grids. I was able to complete this topper in a few short hours. I keep thinking the technique would make a make a gorgeous full size quilt. Kits are available for topper shown and you won't want to miss this fast and fun class. Thursday, March 22 10a-1p or 5:30p-8:30p

Cost: $35

Easy-peasy Cork Bag- Haven't used cork yet? This bag is another fast and easy project that you won't want to miss. We will teach basic bag construction as well and tips and hints that will make your bag impressive! Cost: $35.00

Friday, March 30 10a-2p

Jelly Roll Rug- This pattern is the hottest thing out there right now. Kendrick made our sample last week and it's already selling the supplies like crazy! Come and join us as we show you how to make this great rug. There is a little prep work prior to class, so call to get your supply list ahead of time.

We will be offering two sessions: Weds April 11 10-4 or Sat, April 14 10-4.

Cost: $50
Fabric Painting with Leslie McNeil- Friday, March 16 from 12-4pm Come and explore what you can do with a blank canvas of fabric. We have the paints Leslie will use to help you make a unique piece of fabric. Cost: $30
Thread Play with Leslie McNeil- Leslie will teach us embellishing with threads and techniques with free motion. Come and explore what you can do! We have space available in this class so sign up today! Saturday, March 17 from 10:30-4 Cost: $40
Long Arm Class- Come and learn to use our Long Arm! You will be required to complete the class prior to renting our Long Arm Machine. Monday, March 26 or April 16 2pm- 4pm Bring: Pen for taking notes. Cost: $50



Paper Piecing Class- If you have never done paper piecing and are interested in learning the techniques- we have the perfect class! We have two projects available: Pineapple Paper Piecing or New York Beauty with foundation fabric. If you have your own project- bring it along the technique is the same. April 12th Thursday 5:30-8:30 Cost: $35.00
Crazy Quilting with Susan Ward- I'd love to have you see all the gorgeous crazy quilts that were completed last time (newsletters are not large enough!) Ladies, Susan would love to see your completed projects from her class. Let's give her a show and tell when she is here! Class:

April 4-5

Cost: $75
Gallatin Migration- Susan Ward has a new pattern and she needs testers! She will be here again April 6-7 and will be presenting a new pattern and techniques in her quilt (inspired by us!) called: Gallatin Migration. April 6-7 Cost: $75

- - - Blocks of the Month- - -
We have a few spots remaining in each of our Blocks of the Month. Call for more info!

Floral Menagerie- Applique and Piecing
Solstice- Applique Method
On the Horizon-
Piecing

Mystical Prism- Piecing
First Blush- Piecing featuring the Starburst Ruler
- - - NEW in the Store...
- - - Fabrics, Kits, Patterns, etc!


Live a Simple Life- This quilt is all flannel and wool- You will love the rich deep colors of this one! Stop in and see it in person.



Fabric Paint!



New Leslie McNeil Patterns




New Sweet Rolls: Minkee precuts in 10" x WOF (Width of Fabric)- you can design your own project with these fun options.



Sweet Pea Flannel is here- we have kits and yardage! Makes a great Mother's Day Gift!



We're not leaving Dad out... We have a new kit being made as we speak. This flannel quilt has a great fishing cabin feel. We are making a limited amount of kits. Call us to reserve yours today!

---
MSQCo Hours
Mon - Fri 10am - 6pm
Sat 10am - 5pm
Sunday hours will resume in June.

Sewing Machine Service and Repairs
Our technician, Cameron, comes to us every other week. He has experience with ALL makes and models of sewing machines, sergers and embroidery machines. Please call us at 406-586-6097 to get on our repair list to ensure he has room in the schedule for your machines.