November News from MSQCo

Join us TONIGHT for a fun way to use up your STASH!! Bring: Assorted darks (about 1 yard or so), 2 1/4 yds lights, 1/4 yard inner border, 3/4 yd outer border. Don't worry if you don't have enough- we will share! Theme for tonight: Queen of Tarts.

Stash Busters- Scheduled for the last Monday of each month, starting Oct 30 6 pm. Bring your stash and use it up! We can share amongst classmates to find just the right fabrics for your quilt. We will have various sizes to choose and a fun dessert too! Cost: $25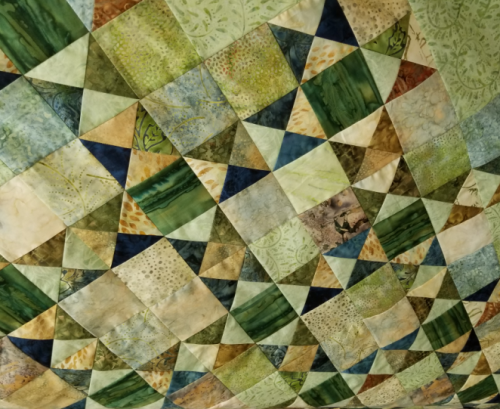 Have you downloaded our app yet? There is a coupon when you do so don't miss out.
Kimberbell Embroidery Class- Last Weds of each month starting Nov 30th. Embroidery classes for all makes and models of machines.We have a Kimberbell Dealer Program with exclusive designs that you will not find in her "over the counter" collections. You will not want to miss the fun. Class fee plus kit required for each class. Bring your machine, stabilizer, threads and USB stick. Cost: $10 + Supplies


Beginning Quilting Mini Camp- Starts Nov 14 runs for 4 weeks. You will learn to make 4 basic blocks and add the setting that you desire for a runner or a table topper. This class is a great starter if you are unsure about joining the 12 week class.

If you want to learn to quilt but don't have the time for a 12 week class, we have your covered! Learn to make 5 different quilt blocks in just 4 weeks and finish with a unique table runner! Cost: $75 + supplies
T-shirt Quilt Class-

If you have old t-shirts that you never wear anymore and don't know what to do with them, this is the class for you! Create a quilt that holds all your memories.

We will be choosing a day in December for this two day class so call us today! 406-586-6097
Tool Tote- Note: Date Change- Nov 15-16 This two day class will show you how to construct this awesome, handy bag. We have two sizes of bags to choose from! Build a stabilized tote bag to fill with sewing supplies and anything you can possibly dream of and more! This is truly a versatile bag!

Nov 15-16

Cost: $50 plus supplies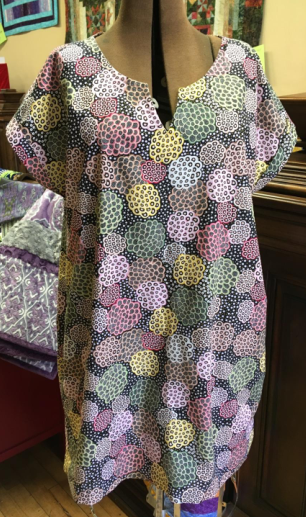 Dress Construction & Pattern Reading-

Nov 10-11 Fri eve/Saturday. Are you a quilter who has always wanted to learn about garment construction? Now is the time! In this day and a half class we will go over garment pattern reading and terminology, and leave with your very own tunic dress!
NEW in the Store... Fabrics, Kits, Patterns, etc!

New from Moda: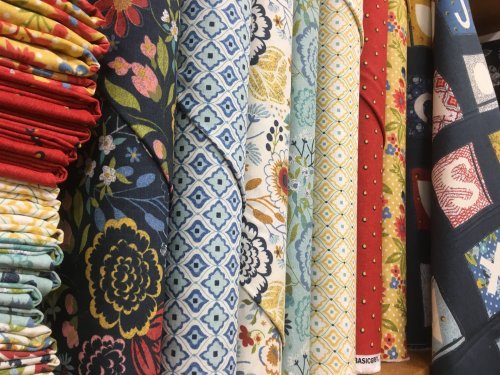 Edyta Sitar's Newest Collection: Crystal Farms is on our shelves! We have have yard cuts and fat quarters also- This line is so lovely. Creams to browns to golds and pinks to teal- you will love the cohesiveness of these fabrics. The following photos can hardly capture the color and feel of this gorgeous line from Andover.






More digital floral panels have been ordered if you missed the first run. We will also be kitting up this Main Street Quilting Co exclusive pattern. Call today to get on the waiting list.

---
MSQCo Fall Hours
Mon, Tues, Thurs, Fri 10am - 6pm
Weds 10am - 5:30pm
Sat 10am - 5pm
Sun 12pm - 3pm

Sewing Machine Service and Repairs


Our technician, Cameron, comes to us every other week. He has experience with ALL makes and models of sewing machines, sergers and embroidery machines. Please call us at 406-586-6097 to get on our repair list to ensure he has room in the schedule for your machines. We are full for this session but Cameron will be here next on Nov 17

.


---