MSQCo June News- Row x Row News 2017



---
We are getting geared up for Summer 2017. This will be the best one yet! We have been cutting kits like crazy and getting lots of ideas from Spring Quilt Market. There are going to be some fun things coming your way...

We have our row completed for the 2017 Row x Row Experience and the pattern is being prepared and proofed! I used a new rolled edge technique this year that was really fun and fast. Creating this pattern was the most fun so far.

Hyalite on the Go!



As you probably already know, Row x Row starts on June 21 and runs until Sept 5. Those are the dates that you are welcome to come into the store to pick up our pattern and kits. The first completed quilt made with at least eight rows to be submitted to our store on or before October 31 is our prize winner (basically, you will be famous). On November 1st, we will be sending out the pattern and kit orders. Feel free to order starting June 21 if you want your kit mailed. We are processing orders first come, first served this year- and when the kits are gone, they are gone!

Be sure to put info@mainstreetquiltingco.com in your email address book. Otherwise we might become spam. No one wants that. Also, follow us on Facebook to stay up to date on everything new. The girls are getting us online more and I'm learning! It's the fastest way to see what is new in the store... Our store is new to it, but are you following us on Instagram?



Classes & Special Events



Mini Camp for Beginners- 4 Weeks starting June 6-27 on Tuesday evenings
This four week evening class will walk you through the basics of fabric cutting, various block components and block construction. We will be making a 5 block runner or small quilt- you get to decide the layout! If you are new to quilting or just want a quick refresher course- join us for our Mini Camp. We will be learning basic quilting techniques with many extra tips and tricks to make your sewing precise and efficient. Sign up by calling 406-586-6097

Cost: $75 plus supplies





Finish What You Started Fridays: May 26, June 16, 30, July 7, 14, 28

Get help finishing those projects you've had on the back burner. Please call to be sure the classroom is free. Cost: $10 for classroom use. Machine also available for rent in classroom for $15/hour (one hour minimum).


New Class!!

Who Needs Stash Pot Pie?
Here's an easy test to see if you should join Stash Pot Pie at Main Street Quilting Company. Ask yourself the questions that follow. If you answer yes to more than half of them, then you need a Stash Pot Pie!
1. Do you ever go on a fabric-buying binge?
2. Do you ever shop for fabric alone?
3. Do you consider yourself a social or recreational fabric collector?
4. Is too much fabric never enough?
5. Do you ever have a craving for more fabric?
6. Are you in denial? Do you swear you're actually saving money by building up your stash before cotton prices rise?
7. Do you consider your habit "quilting therapy"?
8. Have you ever fondled your stash first thing in the morning?
9. Are you guilty of being a "pusher," turning others on to your addiction?
10. Have you ever experienced a "blackout"—finding fabric in your stash you don't remember buying?
11. Is your definition of a "needle exchange" different from that of others?
12. Do you ever buy fabric when you are disappointed, under pressure, or have had a quarrel with someone?

13. Can you handle more fabric now than when you first started to quilt?
14. When shopping with friends or spouses, do you try to sneak in a few extra fat quarters that others won't know about?
15. Do you sometimes feel uncomfortable if fabric is not available?
16. Do you sometimes feel a little guilty about your stash?
17. Has a family member or close friend ever expressed concern or complained about the size of your stash?
18. Do you often want to continue buying fabric after your friends say you've had enough?
19. Have you sometimes failed to keep promises you've made to yourself about controlling or cutting down on your stash?
20. Are you an adult child of a quilter?
You know you said yes to many of those items listed above! It's time then to dust off those scrap bins and start using up your stash- come join our Stash Pot Pie. Each month we will be making a lap size quilt from your scraps. There are options for making it larger if you so choose. Don't have scraps? Don't worry- we have you covered! You will not want to miss out on this new and fun program. Bring a friend- the more the merrier. And there will be dessert! Sneak a peak below at the first month! I did this in a day!!



Stash Pot Pie: Wednesday, June 7 from 10-1 or 6-9 Cost: $35 When you sign up for our Stash Pot Pie, you get your cutting directions and a recipe card as well as the theme for the month. Sign up for one class and get a discount on the next session at the class. Two Sessions to chose from! Cost: $35

Colorsplash- A Trip Around the World Quilt Class: Fri/Sat June 2-3




We will be using an heirloom pattern, Trip Around the World and modernizing it with quick cutting and piecing techniques. Trust me... we will not be cutting the tiny squares, I promise. If you've never made a beauty like this, it's time! Cost: $40 plus supplies

Software Inspirations: May 31 & June 28, 12:30-1:30pm
Join us on the last Weds of each month as we learn about Bernina's latest Version 8 software release can do. Bring a USB stick. Cost: $10.


Collage Class with Leslie McNeil- June 23-24 Fri & Sat 10:30-4 both days
Leslie is coming back to Bozeman! As one of the most popular Collage Classes, we are excited to be included on her schedule again. The techniques you learn from Leslie will translate to other projects also. Bring a friend for two days of fun. Patterns and class info available at the store. Sign up today! Cost: $75.00 plus supplies







Our mini retreat in March was a blast so we're doing it quarterly! There was good food, great friends and lots of sewing! Gwen has a few surprises in store so clear your schedule and come on down! This weekend fills quickly so give us a call. We can have the classroom from noon on Friday until 2 pm on Sunday so gather those projects! Cost: $50/person includes brunch on Sat and Sun and dinner on Friday.


T-Shirt Class: Friday & Saturday- June 30, 3-6pm, July 1, 10-4pm
It's time to make those wonderful T-shirt quilts- they make great graduation gifts! We will walk you through the sorting, cutting and layout of your t-shirt quilt. You will have plenty of time to sew also. There will be a required book and template set available for purchase. Gather your t-shirts and join us! Call for reservations so we know how many template sets to make. Cost: $35.00 plus supplies





Kids Club: Friday, June 9th- Sign up today for an all day class.
Each kiddo will need to bring a machine, and project supplies will be available for purchase at class. Each student must know how to work their sewing machine independently (and wind a bobbin) and bring basic sewing supplies. Please call ahead to reserve a spot as we have to prep ahead for this class. We will be making a quilt!! Cost: $35 plus supplies. Open to kiddos 8 years and up.

---
New Products... fabric, kits, patterns and more!

New batiks... lots of them. Here's just the tiniest taste and pictures never do them justice.




Holly Taylor has done it again- another great holiday line! We have the kit, precuts, and fabric in the Forever Green line. This one will not last long. Claim yours today.


All Stacked Up Kit
We had to do it again! Fabrics are Kaffe Fassett and gorgeous coordinates.
Kit comes in a reusable box.




Brights not your thing? We also made the All Stacked Up kit with reproduction fabrics! You will love this quick and easy pattern. Makes a great gift.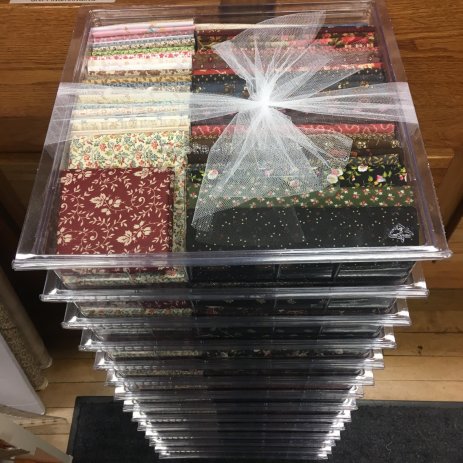 Wildlife Square Dance Kit- Just in time to make this for Father's Day! All ages love this quilt. The digital photo fabric is stunning and is lovely when fussy cut. Don't miss out on this popular kit!






Spirit Steps Kit- This gorgeous store sample gives you a choice of which border color you desire in your quilt. This fast and easy kit is great for sewists of all ages.





Forest Brick Road Kit- We've found a great fabric line to use with a tried and true pattern! Another great quilt for the cabin, camper or the outdoors lover in your life.




Madame Butterfly Kit- New and fresh for the summer! Kit includes all fabric needed to make this adorable quilt top as well as the book with this pattern (you'll love the book... so many more charm pack projects). Comes in reusable storage box.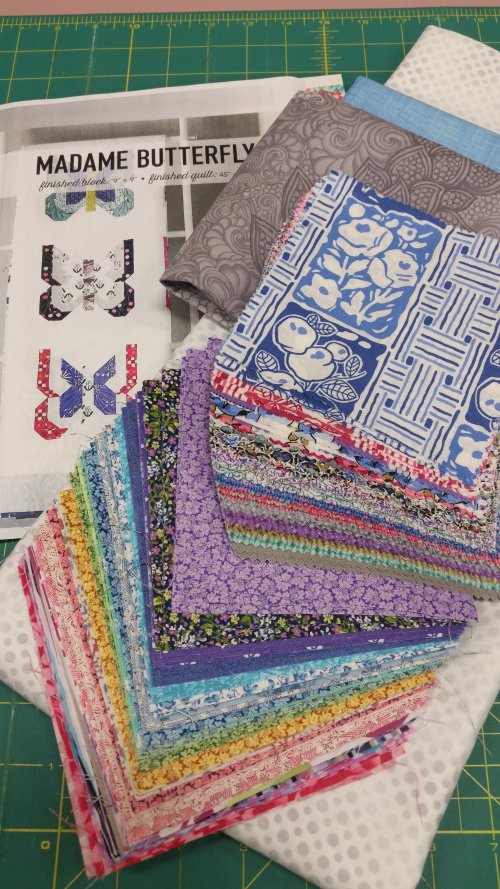 True Blue: Fabric and Kit- New from Moda... Fresh and clean lines are sure to delight.





Colors of Freedom- Just in time for your July 4th celebration table! Kit includes one runner and four adorable patriotic place mats.




Draw Near Kit- Back by popular demand... we were able to more of this adorable fabric (Thank you Quilting Treasures!) and just had to make the kit again. Pattern has been updated and has great illustrations (thank you, Katy!).






Signs of Autumn Kit- This runner kit has gorgeous jewel tone colors that will dress up any table or wall in your home.





Holiday Bells- Kits Available in Both Colors. A little piecing, a little applique and you have a delightful holiday gift for you or a loved one.




New Patterns from Leslie McNeil and Marveles Art Studios. Call today or order online @ http://www.mainstreetquiltingco.com/shop-online.htm




Block of the Month Offerings-

Twilight Song
This batik beauty is a 14 month BOM- You will learn new settings and new techniques with this fun pattern. Each month you will receive fabric and instructions for that section of the quilt. The borders on this quilt are lovely. The applique birds are optional. You really should see it in person if you can- it's so pretty. BOM is for a queen size but you can make it a lap size if you choose. Cost: $25/month Registration Fee: $25




Forest Floor
Come in and look at this beautiful 106" square log cabin-esque quilt featuring rich jewel tone batiks. $36/registration fee. $25.50/month for 12 months. The fabrics are so much prettier in person, especially the corner leaf print. You will not want to miss this one- we have two spots left!!




Women of the Bible- The store sample is done! A flannel block of the month will be great for those cold winter nights. Each month you get all the fabrics you need to make 3 or 4 blocks as well as the pattern and an interesting background on Women of the Bible.



Coming Soon:

First Blush- We are awaiting the background fabric then we will start this fresh and fun Block of the Month. Call us to get on the reservation list. We have limited space and already a good amount of interest.



Three more BOM from market are coming... just awaiting photos and the shop kits :) I am so excited- They are truly lovely quilts. Stay tuned!

Private Lessons- Need a lesson on using your sewing machine? Want to learn a special technique? Need a refresher course on applique? Call us at 406-586-6097 to get on Gwen's calendar for a private one on one session. There is a one hour minimum @ $30/hour. Calendar spaces are limited so call early.

Machine Repair- we can get your machine purring again!
Cameron, our expert technician with many years of experience, comes to us two- three times a month. His list always fills quickly, so call us today at 406-586-6097 to reserve a slot. Please give us the make and model of your machine when you call so we can give you the most accurate repair and/or cleaning estimate. When you bring in your machine, please note the following things to include: Foot Control, Power Cord, Zig Zag Presser Foot, Bobbin in Bobbin Case. We do hold a credit card number on file for the repair as insurance of machine pickup.


Summer Hours

Closed Memorial Day

Open: Mon-Fri 10-6
Open: Sat 10-5
---