Holiday & January News from Main Street Quilting Co.

Merry Christmas! We know it's been super cold outside, but we've got some hot stuff in the store worth donning the puffy coats for. Lots of new fabrics, new patterns, and a staff of lovely, smiling faces.


---
Classes and Special Events
Advanced Beginner Class: Thursdays starting Feb. 9th, am/pm sessions
Hoffman recently released a kit in the Sew into It series, a queen sized batik faux paper-pieced quilt. We say faux paper-pieced as there is actually no paper! All the pieces are laser cut for you, and conveniently notched to make sewing easier. Main St. Quilting will offer a class on this gorgeous kit, so get yours today! Three colors available. Call to let us know which one you want.

Finish What You Started Fridays: Dec. 23, 30, Jan. 6, 13, 27
Get help finishing those projects you've had on the back burner. We'd love it if you called us ahead of time so that we have a head count. Cost: $10 for classroom use. Machine also available for rent in classroom for $15/hour (one hour min.)
Intro to Quilting: Tuesdays starting in Jan. for 12 weeks, am/pm sessions
Class runs twelve weeks, covering the basics from purchasing fabric, cutting fabric, sewing, and making common quilting pieces. This is a true beginner class, so don't think you're not good enough! Consider giving the life-long gift of quilting this holiday with a gift certificate for class. Cost: $150 plus materials. Call for more details or to register.
Kids Club starting Fri, Jan 20, 4pm - 5:45pm-

Kiddos from age 6-10 are welcome as we make small projects that can be completed in one or two sessions. Each kiddo will need to bring their own machine and project supplies will be available for purchase at class. Each student must know how to work their machine (and wind a bobbin) and bring basic sewing supplies.
Call us for more details.



Minkee Quilt as you go- February 3, 10:30a-4:30p

Back by popular demand! Please get on the list so we can let you know if that date changes.
We are waiting for minkee kits to be replenished from our supplier. We can have the following items ordered so please let us know which one you like and we will get it for you. Check out the kits @ http://www.shannonfabrics.com/kits-precuts/kits



Software Inspirations: Starting in January
Software Inspirations is starting again in January and will focus on Bernina's recently released Version 8 Software. Last Wednesday of every month @ 12:30-1:30 pm
Didn't see the class you were looking for? Let us know! We are taking suggestions for class topics, including a t-shirt quilt class. Call us with ideas.
---
Holiday Gift Ideas
New Year Planner
Help your creative friend or partner accomplish project goals with this fun planner. This planner is great as you can jump in and start using it at any time- no need to wait for January first! Use the brainstorming and project planning section to think through ideas before plotting it in the weekly to-do section. Quilt patterns and ideas are in the back section. Also for purchase is a fun, coordinating sticker collection and a pattern for a planner cover.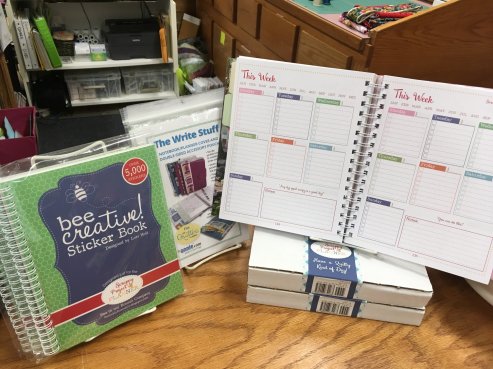 New Patterns: Button Boats, Splendor, Mod-Dog



Poppy-Mae: Table Runner Kit and Coordinating Layer Cake- This line has gone fast. We only have a few pieces left!















Fat Quarter Bundles and Half Yard Bundles
A fat quarter or half yard bundle collection is a huge start towards designing a quilt. We makes bundles out of many new collections that arrive in store and carry lots of precuts from fabric distributors. New Kaffe Fassett fabrics are in and bundled! Can't find the bundle of a new collection you're looking for? Ask!








New Bali Poppies
20, 2.5" strips per pack. In a wide variety of colors, these poppies make great stocking stuffers!
















---
Bernina
#72 Foot and Sew Steady Quilting Rulers
A quilting foot designed for use with quilting rulers such as Sew Steady's quilting rulers. These rulers can be used for all sorts of quilting designs. We have a set of rulers in store for you to look at. A quilting foot is required to use with the rulers. Foot comes with the 12" Arc Template set, but this foot will not fit Bernina shanks. Bernina has just released the #72 foot can be used with these rulers. Call if you want a foot as these will go quick! If you don't want to wait for the Bernina #72 to arrive, we do have a foot adapter that can be purchased right away.


---
New Products
We take pre-orders on new products. Call and let us know what you want.


Hoffman 885 Dots and Hoffman 1985 Mottled Solids
We're excited to announce that starting in December we're participating in a new distribution system with Hoffman. Every other month we will receive 15, 8-yard bolts of either 885 Dots or 1985 Solids. You will for sure want to add these to your batik quilts or simply add the colors to your stash.

Forest
Outdoor collection from Windham Fabrics featuring a digitally printed woodland scene with deer and fall leaves. Beautiful scenes for fussy cutting or featuring as a large block. We're getting 8 coordinating bolts.





















Blithe
From Art Gallery is an art deco collection inspired by forest lands. Modern-styled motifs of deer, antlers, birds, flowers, and a forest mingle with icy grey, teal, and cream backgrounds. Great prints and colors for apparel or home decor. The shop is currently kitting a quilt with this fabric. One teaser image below. We recommend coming to look at it quick as we've sold a few bolts already.























Adventures by Amy Ellis and coordinating patterns
Geometrics and bright colors mingle with phrases like "Adventure harder," "Adventure is calling!" and "Go Explore." Explore all the fun patterns released with this adventurous geometric line.





















Moda Grunge
New colors are in store and more coming. So far we've added new Turquoise, Christmas Green, Christmas Red, Grey, Cherry Red, White.
Pirouette from Blank Quilting
Kaleidoscopes and mosaics shimmer in small and large scale prints. Bold in design and color: bright primary colors and jewel tones.



















Rick-Rack Pattywack
Flannel panel designed for a receiving blanket and coordinating flannels. Panel features a printed quilt square design and directions for blanket. Coordinating flannels are polka-dots and a rick-rack print.



























New Outdoors fabrics from Robert Kauffman
Artistic and illustrative scenes of outdoor scenes and animals. Birds, wolves, otters, and fish. Some bolts are designed as panels, others as yardage.


















Rock Around the Clock
Bowling! Drive-in! Pink Ladies! It's the 50s! Fun and energetic.

























If you missed out on the Hoffman Palette Sampler Fabric—think paint swatches—we've got one more bolt on the way.
Coming Soon
Windham Fabrics: Four Winds
Elizabeth Studios: Woodland Families
Hoffman 1985, 15 bolts
Dogwood Lane

---
Kits & Patterns
Lots of new patterns have just arrived. Come check out the pattern wall.
Hoffman Sew into It Kits!
Laser cut pieces, notched piecing. Arriving end of January.


























Quite Contrary

Quite Contrary has been a very popular quilt kit and now it's coming to you in a new colorway! Let us know if you want one set aside for you. We should have the sample hanging soon.
---
Blocks of the Month
Designed to be sold as mini-kits every month, we can also sell the full kit for many Block of the Months. Just ask. Also, blocks of the month make a great year-round holiday gift.
Tonga
We're working on Tonga Gypsy, a 108" square quilt and re-designing the colors. This will be a 9 month BOM program in greens, purples, and creams.



















Forest Floor
This beautiful 106" log cabin-esque designed quilt features rich jewel tone batiks. Accepting registration now. $36/registration fee. $25.50/month for 12 months The fabrics are so much prettier in person- especially the corner leaf print. You will not want to miss this one!




























Golden Age
We have a few kits left of this lovely 79" x 79" medallion quilt. Each month's kit comes with the fabrics needed and information on the actress that inspired that block. You must see this one in person- It's gorgeous!

---
Inventory Reduction Sale- It's that time of year where we have to count everything and I'd really rather not- so we are having an after Christmas sale! Monday, Dec 26th for one day only! Regular priced fabric on the bolt will be 30% with 1 1/2 or more yards purchased from that bolt. Christmas and sale fabric from our basement will be 50% off. Mettler threads are 30% off.

Don't miss out!



Machine Repair
The latest Arctic Air has us thinking it's time to hunker down with sewing projects. We repair and maintain all makes and models of sewing machines and sergers. Cameron, our expert technician, comes next on January 6th. His list always fills quickly, so call us today at 406-586-6097 to reserve a slot.
Winter Hours
Open: Mon, Tues, Thurs, Fri 10-6
Open: Weds 10-5:30
Open: Sat 10-5
Open: Second Monday of every month 10-5:30
We will be closing early on Dec 24 & Dec 31 at 2 pm. We will be closed Dec 25 for Christmas and January 1st.

---
Be sure to put info@mainstreetquiltingco.com in your email client's address book. Otherwise we might become spam. No one wants that.

Also, follow us on Facebook to stay up to date on everything new.