December News from Main Street Quilting Co.


Happy Thanksgiving from our house to yours. We have a busy season ahead and pray that your Holiday Season will be filled with much love, peace and Christmas Joy!

Our tree is lit and the gifts are around the tree ready to welcome you to the Holiday Season.



Does your family need help? Ha! Loaded question, right? We are here to help them choose the best gift for you! Stop in and let us know what you like. Simply come in and fill out your Wish List and then we'll keep track in our computer. Send your loved ones in to us and tell them, "The girls know what I like" They get to look like the hero getting you what you want for Christmas- we got this!


---
Classes and Special Events
Color Theory with Susan Ward

Susan Ward of Common Bias Quilting was in the shop Saturday, Nov. 19th. Students learned how seemingly different colors interact with each other and how to bring a scrappier quality quilts. If you missed this class but are interested in another date, let us know. We love having Susan teach for us! We also have Susan's patterns for sale (Red Sky Morning and Chequamegon Meadows, Circling the Barn, The Dance, and more). Starter kits of neutral fabrics available. Stop in and see Susan's Crazy Quilt sample. She will be coming back this Spring to teach us how to put together our own Crazy Quilt.
Finish What You Started Fridays are back!! Dec 2, 9, 16, 23, 30 noon- 6pm


Get help finishing those projects you've had on the back burner. We'd love it if you called us ahead of time so that we have a head count. Cost: $10 for classroom use.



Black Friday & Small Business Saturday- Nov 25-26 open @ 10am


Stop in and see the specials we are having on fabric, patterns and notions to get your holiday off to a great start. See below for more sale items. Don't forget to come in and fill out your wish list. Remember the countdown to Christmas is on and we are here to help you!




PreCut Potluck: Dec 2- 6 pm-

Signups close on Nov 28



We will be making a cute strip wall hanging with a partial Jelly Roll and a background fabric. Stop in to see the project and sign up. We need a head count for the classroom. Stop by that night to see the next few projects we have in the works! Cost: $10



Quilt-As-You-Go Class: Dec 3- 10-4:30pm- Signups close on Nov 29


If you haven't done quilt-as-you-go, you will love the ease of this project. I love how nice it is to have your quilt finished so quickly. For that last minute Christmas gift or as a fun class to do with your loved one, this is the class for you! Cost: $35/person or $45 for a pair working together on one project. This class is almost full so don't miss out!



Downtown Bozeman Christmas Stroll: Saturday, Dec 3- 4:30-7:30pm


We will be open for the Stroll! Stop in and show your loved ones what is on your wish list!



Table Runner Class: Saturday, Dec 10 10:30-3:30-

Signups close on Dec 3


Need a quick gift for a Christmas Party? This runner class will help you get it done! Another quilt-as-you-go technique and you'll be done in no time! We will even give you a tutorial on making quick and easy matching napkins. Cost: $30



Bind That Quilt: Tuesday, Dec 13th 5pm-9pm- Signups close on Dec 5


Binding is an important part of your quilt. Let us teach you how to make those perfect mitered corners with a continuous method. We will cover faux piped binding, traditional binding and bias binding. You choose your method and we will help you get that quilt bound! Cost: $25


Free Motion Quilting: Thursday, Dec 15 10:30-3pm-

Signups close on Dec 7



Learn to quilt on your own machine! Bring your machine and learn to finish those projects!
Cost:$30 plus supplies




Hand Applique Class: Dec 17- 1pm Signups close on Dec 3



Connie Dilts is coming from Billings to teach this fun class. Learn the basics of hand applique while making a small wool project. Cost: $35 plus supplies

Advanced Beginner Class: (note date change) Thursdays starting February 9th am/pm



Hoffman recently released a kit in the Sew into It series, a queen sized batik faux paper-pieced quilt. We say faux paper-pieced as there is actually no paper! All the pieces are laser cut for you, and

conveniently

notched to make sewing easier. Main St. Quilting will offer a class on this gorgeous kit so get yours today!
Intro to Quilting- Tuesdays for 12 weeks am/pm sessions



New Session starts January 10th. Class runs twelve weeks, covering the basics from cutting fabric, sewing, and making common quilting pieces. Consider giving the life-long gift of quilting this holiday with a gift certificate for this class. Supplies for this class are given a 15% discount.
Cost: $150 plus materials.
Intermediate Quilting
This class will be offered again in Sept 2017. If you are interested in taking your quilting skills to the next level, call to get on our waiting list!


Software Inspirations
Software Inspirations has finished for the year and will be starting again in January. Bernina just released Version 8 Software. Committing to next year's Software Inspirations Classes gives you a discount on the software plus you'll get to learn about all the cool things this new release can do. Talk to us for more details.
Didn't see the class you were looking for? Let us know! We are taking suggestions for class topics, including a t-shirt quilt class. Call us with ideas.
---
---
New Products

We take pre-orders on new products. Call and let us know what you want.


Black Friday & Small Business Sat Sale
Sale fabric (in our classroom) will be 50% off, 2 yard min. Bernina Presser Feet- 25% off, Christmas Fabric- 25% off, Halloween Fabric- 45% off (stock up for next year!)


Sample Sale: Nov 25-Dec 3
All quilt samples in our classroom will be 25% off posted price. Samples are sold as is.
Bernina Sale:
**All machines must be ordered during the time frame listed below to get special pricing.
November 17 - 30----
25% Off BERNINA Presser Feet and Hoops‡‡
‡‡Limited to on hand product at time of sale.
December 1 - 7----
B 215 Simply Red
A Very Special Limited Time Offer!
Save some green on red
The B 215 for $499
A $500 savings!
December 8 - 14----
B 330
A great deal for making spirits bright!
B 330 for $699
Instant savings of $700

December 15 - 21----
B 530
Get more precision for less jingle
B 530 for $1,499

December 22 - 31---- O
verlockers / Sergers
Santa's little helpers
25% OFF
All overlockers, coverstitch and cover and chain stitch machines.

Fabric

Birds of Liberty by Darlene Zimmerman is here! Each of the 50 United States is represented by its state bird. We have all 50 state birds in a neat zippered pouch ready for you! We also have the Montana Meadowlark on the bolt!






New Batiks are on the shelf and we are making room for MORE- so don't be surprised when you see things moved around a bit.

New Kaffee Fassett fabrics are here- We have Fat Quarter and 1/2 yard bundles available. These make great gifts!!



New from Marsha Derse- Studio Alphabet





New Kit Coming Soon:

Quite Contrary has been a very popular quilt kit and now it's coming to you in a new colorway! Let us know if you want one set aside for you.

Wool
Plays with Wool Designs has released new Wee Ones and new framed designs! We are taking pre-orders because these are going to quickly fly out the door.

Not sure what you want? We can put together a gift basket for you of some of the latest and greatest products!

New Bali Poppies- (20- 2 1/2" strips per pack) A wide variety of colors, these poppies make great stocking stuffers!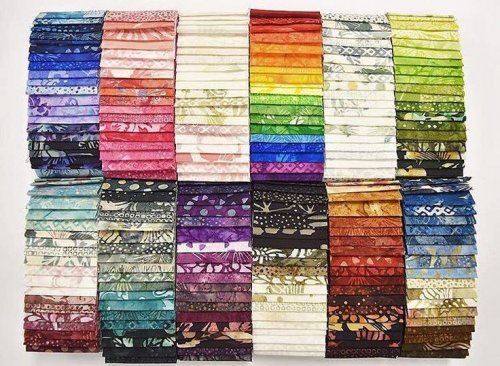 Sew Steady Tables
Think of Sew Steady Tables as a giant extension to the left of your machine. Custom made to fit your model machine, these tables keep your project on the same level as your machine bed and give you tons of extra piecing space and makes quilting easier. Sew Steady Tables make a great present for yourself or other sewers. Call us at Main Street Quilting to order. We will contact Sew Steady and can have them mail the table directly to you!
---
Fun at the Store!

We have new patterns & samples from Leslie McNeil of Marvelous Art Studio. She held another fun weekend Collage Class in early November. If you missed it, call to get on our waiting list. We would like to have her come back in January with enough interest. Meanwhile, here are a few fun pix from the October & November classes.

Have you seen our Row By Row Experience Winning Quilt? This was made by our very own Libby O'Driscoll. Rows are from stores that Libby visited this summer. What a fun quilt, Libby! Congratulations.
---
Machine Repair
Get your machine serviced and ready for winter sewing! We repair and complete maintenance all makes and models of sewing machines and sergers. Cameron, our expert technician, bi-weekly and his list always fills quickly, so call us today at 406-586-6097 to reserve a slot.
Winter Hours
Open: Mon, Tues, Thurs, Fri 10-6
Open: Weds 10-5:30
Open: Sat 10-5
Open: Second Monday of every month 10-5:30

We are closed Thursday, Nov 24 for Thanksgiving but we are open Friday, Nov. 25, the day after Thanksgiving @ 10 am.

We will be closing early on Dec 24 & Dec 31 at 2:30 pm. We will be closed Dec 25 for Christmas and January 1st.


---
Be sure to put info@mainstreetquiltingco.com in your email client's address book. Otherwise we might become spam. No one wants that.

Also, follow us on Facebook to stay up to date on everything new.