October News from Main Street Quilting Co.

We hope you got to enjoy Homecoming Weekend with the Bobcats. We were very honored to be chosen as "Retailer of the Game"

Now is the time to start those projects for the holidays, and we've got fabrics, kits, and patterns to get you rollin'. If your sewing machine needs a little TLC, our technician Cameron is coming back Oct. 7. His list is already half full, so call today to reserve your slot!

The Quilter's Crawl is coming!! This Bozeman, Livingston, and Big Timber Shop Hop is happening Thurs., Oct. 27 through Sat., Oct. 29 and is appropriately Halloween themed. Crawl to all 5 stores, for treats, tricks, and a chance to win gift certificates. The first to complete a passport will receive a $50 gift certificate from each store. Main Street Quilting will have slightly different hours during this event: Thurs. & Fri. 9 am to 6 pm and Sat. 9 am to 5 pm. Participating stores: Main St. Quilting Co., Silver Thimble, Thimbelina (Livingston), Back Porch Quilts (Livingston), and Little Timber Quilts (Big Timber). Click for brochure.

















---
Classes and Special Events
Precut Potluck: FIRST Friday, October 7, 6 pm
Precut Potluck's date is changing to the first Friday of the month. Bring a dish to share as we make an Astrodelic wall hanging with a jelly roll. We will hold the class with four or more people, so call us today to get on the list. This is always a fun evening with friends!
Software Inspirations
Software Inspirations is almost finished for the year (last session October 26) and will be starting again in January. Bernina just released Version 8 Software. Committing to next year's Software Inspirations Classes gives you a discount on the software plus you'll get to learn about all the cool things this new release can do. Talk to us for more details.
Finish What You Started Fridays are back! Oct. 7, 14, 21, 28
Call us to get on the list for help finishing those projects that you had on the back burner. Cost: $10 for classroom use.
Unfurling- Free movement with fabric. Sat October 15th 10:30-4:30



This class is great for artists of all ages. Gwen will walk you through the freezer paper design technique and cut away applique. Stop in and see our gorgeous examples. Cost: $30 (freezer paper will be supplied in class)




Beginner Quilting: Tuesday AM & PM sessions Sept. 6, 10:30 am or 6 pm
Class is well underway. Due to it's popularity, we offer this class three times a year. Call us to get on the list for the next session. We'll offer another session this coming spring.
Collage Class with Leslie McNeil
We just ran this class with Leslie! It was so popular that we will offer a second session. Leslie McNeil of MarveLes Art Studios walks you through the entire process of fusible applique. You will learn shading, dimension and her expertise will help you to grow a beautiful project. The next class is happening Nov. 4-5, 10:30-4:30 both days. We already have a half full list so call us to sign up and reserve your spot. 406-586-6097
Color Theory Class by Susan Ward: Saturday, Nov. 19 from 10 am -3
Search and Rescue 101: Fabric Color and Design
Explore the often challenging world of fabric design, color, and tone. Using several tips for fabric selection, create great color balance. Whether you are looking for multiple tonal background pieces, or a striking 2-color quilt, learn some "search and rescue" methods for combining fabrics from your own collection with beautiful new designs. Participants may construct a small table runner/hot pad, or choose from a collection of patterns designed to be used with multiple fabrics. Dig into those favorites stacks of fat quarters or yardage and build a beautiful multi-tonal piece.
---
---
New Products
Sew Steady Tables
Think of Sew Steady Tables as a giant extension to the left of your machine. Custom made to fit your model machine, these tables keep your project on the same level as your machine bed and give you tons of extra piecing space to make quilting easier. Sew Steady Tables make a great present for yourself or other sewers. Call us at Main Street Quilting to order. We will contact Sew Steady and can have them mail the table directly to you!

Fabric

Digital Prints by Hoffman
NEW: Forest Animals print. This fabric is comprised of photo realistic animals and landscapes combined in a dreamyscape. Each repeat is approximately 7/8 yd and contains a bear, loon, eagle, moose, ducks, lynx, bison, wolf, butterfly, and owl. Animals are both photo realistic and mysterious with parts of the animal being made by photos of landscapes. This is a really intriguing fabric, especially when fussy cut. Be on the lookout for a kit with a pattern by Gwen. Stop by our window to see it for yourself.
Slow & Steady by Tula Pink
A kaleidoscope re-imagining of the famous fable "Tortoise and the Hare" complete with tortoise, hare, a pit crew, and the winner's circle. Collection consists of a few key motifs then printed in three colorways: blue-raspberry, strawberry kiwi, and orange crush. Bolts just arrived!
Foxglove by Angeela Hoey
Taking subtle inspiration from the foxglove flower and adding in some cartoon foxes, this line is whimsical and cute. Color pallette features oranges, reds, blues, and yellows. Feminine, modern, and cute. We are taking preorders on this line. It will not last long! Call us today so we can cut your yardage first! 406-586-6097
Welcome Wagon by Kim Diehl
We are carrying a small selection bolts from Kim Diehl's new collection "Welcome Wagon." We do have fat quarter bundles of the entire collection. The small sampling below is a glimpse of her saturated colors.
Ellcott Park
Elegant florals in blacks, whites, and tans. Large and small scale florals and leaves and a few smaller texture pieces. It's super pretty.
Sew Hopeful
Celebrate your fabric stash with this witty fabric is two color ways. "STASH Special Treasures All Secretly Hidden," "PhD Projects half Done," "SABLE Stash Accumulation Beyond Life Expectancy." On a more serious note, we also have words of hope and inspiration.
Anything is Possible
October is breast cancer awareness month, and this line from Windham Fabrics pays tribute to the cause.
Western
We have a few new western fabrics to complement our western selections. "Running Around" (pictured) from Michael Miller fabrics is a gorgeous piece great for napkins and other housewares.

Flannel

Storybook from Windham Fabrics
30's Reproduction in Flannel! Dogs, cats, frogs, flowers, ditty dots. We have 14 bolts in this line which will great for so many projects.
Wool
Lots more kits from Wee One's are in-stock. We have framed wool pieces for all seasons in addition to other new designs.
Seasonal
Halloween is just around the corner, and we still have lots of Halloween fabric to choose from including glow-in-the-dark offerings.
Did you know that as of Oct. 3 there will be 82 days until Christmas? That means there is still a little time to get cracking on those holiday projects!
Lots of holiday fabric in stock in both quilting cotton and flannel. To give you just a taste, here is Santa & Penguin panel in flannel. We have coordinating flannels as well in addition to tons more holiday cuteness.
Software
Bernina has Software Version 8 available. There is a limited time when we can offer special pricing. Please call us for details!
---
Kits & Patterns
Make that special holiday gift quickly with a kit. Most kits come with all fabric for the top, binding, and pattern. Some kits are featured here, but we also have tons more in the store. Minkee is a great backing for cuddly kids quilts. The kits featured below are now 25% off. Supply is limited!

















Give the West
Roamin' Wyoming Kit
Designer of "Under the Big Sky"--now back in stock--released a Wyoming design. We have a limited number of kits available. Pattern only after kits are gone. We also have another Montana themed pattern from Dione Roberts: Big Love. Big Love kits are being made today so stop in and see what we've put together.
















Around the River Bend:

New pattern from Monique at Ladybug's Cabin Creations



Fishing Tales Kit
The colors in this photo were chosen specifically for our store. We have three kits still available- kits include the wool and beads to make your wallhanging complete.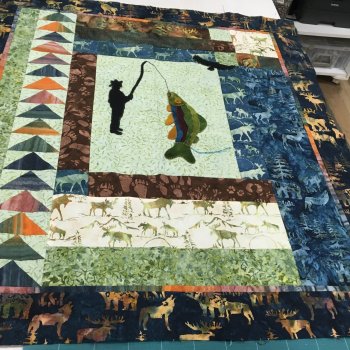 Happy Hollows Kits
Brand new are Halloween patterns featuring candy corn and a jack-o-lantern. We also restocked holiday kits as well, so we've got your snowmen and Santas in stock. They are going fast so call or come in today to get yours!
Winter Frost
Snowflakes dance with ornaments and more in this kaleidoscope-like quilt. We also have this fabric on the bolt.
Bargello: Morning Melody
Kit consists of many jelly rolls (three for the modern lap quilt, five for the autumn queen quilt) that do much of the work for you! Lap quilt is in turquoises, oranges, and grays while the queen quilt is inspired by fall foliage.
---
Blocks of the Month
Designed to be sold as mini-kits every month, we can also sell the full kit for many block of the months. Just ask. Also, blocks of the month aren't limited to locals; we ship all over the USA!
Women of the Bible
This FLANNEL block of the month is now done and kits are available for purchase! Sample blocks are below. Extra flannel from this kit is now for sale on the flannel wall.


Star Stuff
Kits are ready to go and we are making our sample. Stay tuned for more photos.

Festival of Stars
We've finished kitting this quilt as well and are accepting sign-ups. Come in the shop to see this stunning quilt.
---
---
Machine Repair
Get your machine serviced and ready for fall and winter sewing! We repair and maintenance all makes and models of sewing machines and sergers. Cameron, our expert technician, comes next on Oct. 7. His list always fills quickly, so call us today at 406-586-6097 to reserve a slot.
Summer & Fall Hours
Second Monday of every month: close at 5:00 pm for staff meeting
---
Be sure to put info@mainstreetquiltingco.com in your email client's address book. Otherwise we might become spam. No one wants that.