September News from Main Street Quilting Co.





Look who is in our window!
We're gearing up for fall and winter weather. MSU starts next week, and we're excited to welcome parents and students. This month we have lots of new flannels, holiday fabrics, and classes to keep you busy as you transition from the outdoors to the sewing room. Don't forget to get your machine tuned up for a busy fall sewing season. Call us today for Cameron's reservation list. 406-586-6097

Calling all Blue and Gold Quilt Makers: We will be hosting a Blue/Gold Quilt Show (date still to be determined). Watch this newsletter for more info and please call us to get on the list of Quilt Show participants.
Row by Row ends September 7; get into the store before September 7 to pick up a row kit. Kits and patterns are available for sale online as well, but note that we can't ship them until November 1.
---
Classes and Special Events
SEWAPALOOOOOOZA: with Bernina Educator Kathy Shalda, Friday Sept. 23 and Saturday Sept. 24

Kathy Shalda, Bernina educator, is coming for another incredible two day event. Bernina brings the machines, we bring the supplies, you just bring you! Sign up today for Friday and Saturday, Sept. 23-24. Space is fulling up fast, and you will not want to miss out of using the Bernina machines to make a clutch purse and accessories holder. Cost for both days is $249. Sign up before Sept. 8 and receive $50 off. Kits, goodie bags, instruction, lunch, and snacks are included in class fee.
Precut Potluck: CANCELLED for August; Changing for Rest of the Year... Next Session: FIRST Friday, October 7, 6 pm
Precut Potluck's date is changing to the first Friday of the month. In August and September the shop is booked with lots of classes, so we look forward to seeing you in October. Bring a dish to share as we make an Astridelick wall hanging.


Software Inspirations: Wednesday, Aug. 31, 12:30-1:30 pm; Wednesday, Sept. 28, 12:30-1:30 pm
If you are interested in what the Bernina Software 7 can so, join us for an instructional video and discussion time. Embroidery show and tell always welcome! Bring your USB drive for the downloads. September 28 is the last session for the year. Cost: $10
Bernina just released Version 8 Software. Committing to next year's Software Inspirations Classes gives you a significant discount on the new software. Call Gwen for more details.
Finish What You Started Fridays are back! Sept. 2, 9, 16
Call us to get on the list for help finishing those projects that you had on the back burner. Cost: $10 for classroom use.

Morning Melody: Saturday, Sept. 10, 10:30-4:30 pm
Date now set for Bargello method class. Kits are cut and for sale now (you don't need to be in the class to purchase): a queen size in autumn colors and a lap size in modern orange, turquoise, and gray. Strip sets should be sewn prior to class. Cost: $35

Intermediate Quilting: Thursday AM sessions only available, Sept. 1-Dec. 15
Evening class is full! Gwen looks forward to seeing everyone the first session. Pick out fabrics in store the first day of class.

Beginner Quilting: Tuesday AM & PM sessions Sept. 6, 10:30 am or 6 pm
Seats still available in both sessions. Sharpen your sewing skills while making a sampler quilt. This class is great for all ages of sewers and open to all! Class starts with the basics of how to choose fabric and finishes with a completed quilt top that is ready to send to the quilter. Fall session will run Sept. 6- Dec. 6. Class list and supplies will be picked up at first class. Sign up today to reserve your spot. Cost: $150 plus supplies.
Collage Class with Leslie McNeil: Friday, Sept. 30- Saturday, Oct. 1
Class is full! Two day class, Friday, September 30 to Saturday, October 1 from 10:30am to 4pm. Cost: $75 plus materials.
This class has been so popular that we will be offering a second session, date TBA. Leslie McNeil of MarveLes Art Studios is coming and sharing her gorgeous collage techniques with us. McNeil walks you through the entire process, so you'll leave with a finished product. Get on our waiting list and we'll let you know when the next session is happening.
Color Theory Class by Susan Ward: Saturday, Nov. 19 from 10 am -3
Search and Rescue 101: Fabric Color and Design
Explore the often challenging world of fabric design, color, and tone. Using several tips for fabric selection, create great color balance. Whether you are looking for multiple tonal background pieces, or a striking 2-color quilt, learn some "search and rescue" methods for combining fabrics from your own collection with beautiful new designs. Participants may construct a small table runner/hot pad, or choose from a collection of patterns designed to be used with multiple fabrics. Dig into those favorites stacks of fat quarters or yardage and build a beautiful multi-tonal piece.
---
---
New Products
Fabric
Josi Severson
We are excited to be carrying custom designed fabric by Josi Severson. Her bold geometric designs are printed on organic cotton fabrics including flannel, sateen, jersey, canvas, twill, linen, and interlock. Choose your print, color, and fabric type and then custom order per yard. Not all designs are available in all colors or fabric types. We have swatches of available fabrics in the store. Fun fabric for clothing, accessories, home decor projects, and more.

Want to know more about Josi and her process? Here is her bio:
"

Josi Severson's original artwork is designed exclusively by hand using simple paper media, markers, pen and paint. Finished designs are then photographed, individual screens are burned, and color is applied via screen printing. The results are amazing! Artistic integrity is maintained through this process allowing for unique variation and subtile depth to find its way onto the fabrics.

Designs for home and fashion are printed on organic cotton basecloths: organic jersey, sateen, batiste, voile, canvas, linen, and twill among others. Josi sources USA grown cotton canvas from Misssissippi and organic cotton jersey from North Carolina."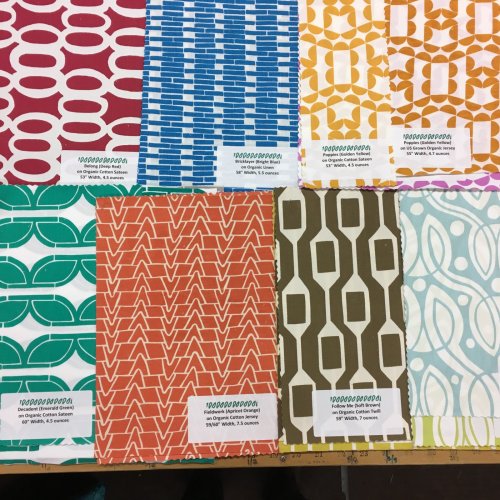 Watercolor Digital Print by Hoffman
See the entire Watercolor Batik line by Hoffman on one piece of fabric. Samples of each batik color are printed digitally with product information below sample. A unique piece of fabric. We also have more yardage of Hoffman's digital print of mountains and flowers.


Moose Lodge
An outdoor line that bridges the gap between winter and year-round. Buffalo checks, pinecones, cardinals, pine needles, and birch bark dominate this line. Line also has a great coordinating panel.
Little Red Riding Hood doll and friend
Make Little Red Riding Hood, her clothes, a quilt for her, and a friendly wolf all from one panel! Super cute and goes together really easily. We also have fabric from the coordinating line.
Flannel
New colors (and prints!) on wall!
Wilderness Flannel
Plaid, deer, trees, and more for a great cozy, cabin-themed project.
Wool
Lots more kits from Wee One's are in-stock. We have framed wool pieces for all seasons in addition to other new designs.
Gorgeous Wool Applique by Deborah Gale Tirico
Want to add dimension to your applique projects? This is your book. Book has many projects and patterns.

Seasonal
Lots of holiday fabric in stock in both quilting cotton and flannel. To give you just a taste, here is Santa & Penguin panel in flannel. We have coordinating flannels as well in addition to tons more holiday cuteness.
Software
Bernina has Software Version 8 available. There is a limited time when we can offer special pricing. Please call us for details!
---
Kits & Patterns
Roamin' Wyoming
Designer of "Under the Big Sky"--now back in stock--released a Wyoming design. We have a limited number of kits available. Pattern only after kits are gone.

Help is on the Way
Remember the panel with the city and roads designed for playtime? We only have two panels left! Kits (of the bottom quilt in photo) are still available.
Fishing Tales Kit
We announced this as class a little while ago, but unfortunately a class is no longer on our calendar. However, we are selling kits for this cute wall hanging that serves as proof of that tall fish tale. Applique in center is made with wool.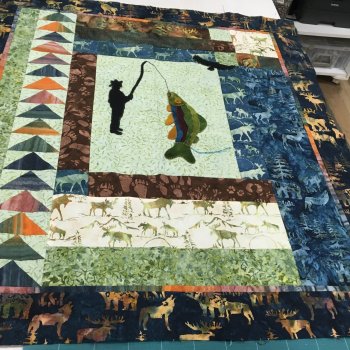 Winter Frost
Snowflakes dance with ornaments and more in this kaleidoscope-like quilt. We also have this fabric on the bolt.
Bargello: Morning Melody
Mentioned as a class earlier in this newsletter, we have kits for sale separate from the class. Kit consists of many jelly rolls (three for the modern lap quilt, five for the autumn queen quilt) that do much of the work for you! Lap quilt is in turquoises, oranges, and grays while the queen quilt is inspired by fall foliage.
Quiet Bunny
Brand new fabric, brand new kit. Finished size is approximately 58" x 83." This will be an adorable children's quilt.


---
Blocks of the Month
Designed to be sold as mini-kits every month, we can also sell the full kit for many block of the months. Just ask. Also, blocks of the month aren't limited to locals; we ship!
Women of the Bible
This FLANNEL block of the month is now done and kits are available for purchase! Photo of quilt below, but note that our colors will be different. Extra flannel from this kit is now for sale on the flannel wall.
Star Stuff
We're still busy kitting this batik quilt up in TWO color ways; let us know what you'd like.

Festival of Stars
We've finished kitting this quilt as well and are accepting sign-ups. Come in the shop to see this stunning quilt.
---
---
Machine Repair
Get your machine serviced and ready for fall and winter sewing! We repair and maintenance all makes and models of sewing machines and sergers. Cameron, our expert technician, comes next on September 2. His list always fills quickly, so call us today at 406-586-6097 to reserve a slot.
Summer & Fall Hours
Second Monday of every month: close at 5:30 pm for staff meeting
Monday, September 5: closed for Labor Day


---
Be sure to put info@mainstreetquiltingco.com in your email client's address book. Otherwise we might become spam. No one wants that.