June News from Main Street Quilting Company

---
Row by Row Experience

Row by Row is coming soon! This year's theme is "Home Sweet Home." This fun nationwide shop hop runs from June 21- September 6, 2016. We will have patterns and kits for sale during those times. From Sept 7 - Oct 31 we are in a holding pattern while quilts are being made. The first person with a completed quilt (quilted and bound) to come into the store will receive a fabulous prize! We would love to display your quilt!!

If you are unable to travel to Bozeman, this summer... The rows can be pre-ordered for mailing- they will be mailed on November 1st. If you know anything about Row by Row- it's a blast and we love participating. For this reason our store is strictly adhearing to the rules set forth by the organizers. Feel free to check out the rules at http://www.rowbyrowexperience.com/row-by-row-experience-faqs.htm.

SNEAK PEAK...
A super cute row is in the works for you in two color ways, and we'd like your help determining the most popular color way. Kits will be made in both colors- Teal and Lime or Blue and Yellow (ignore that weird grey... thankfully, we decided against that!), but let us know your favorite so we can cut kits appropriately.
Email us with your vote for a discount on your next purchase! Vote "Yellow" (left) or "Green" (right) in the subject line of your email. Send your vote to info@mainstreetquiltingco.com for a discount. Voting ends June 3rd.
---
New Stuff on the Walls

New kits and Blocks of Month are on display in the store. Come in to see them right-side up!
Arcadia Kit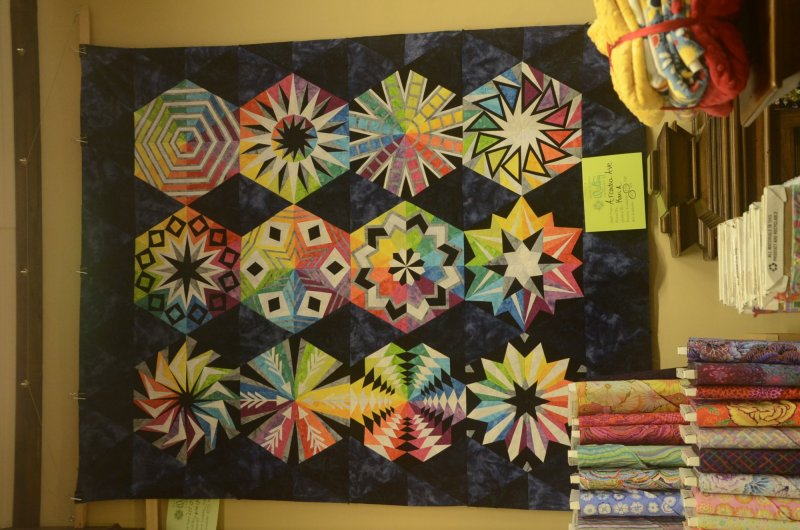 Radiant Reflections
block of month
Thanks Sarah for whipping up the sample for the Picture This! Kit.
---
Upcoming Classes and Special Event

s
PreCut Potluck- Friday, June 24 starting at 5:30pm. Bring a dish to share and two fat quarters. We're making a popup bag. Call us for more details on what this project requires and to get on the class list. Cost: $10/class
Diva Wallet Class- This lovely wallet is a great way to show off your style with fabric! Wallet fits multiple cards, zippered change pocket, and even fits many large phones. This class was so popular that we will be offering another class soon. We have patterns and wallet supplies here at the store for you! Call to sign up for class. More classes will be offered this summer- Let us know you want to join in on this fun and FAST class.
Intermediate Quilting Class-
Pre-registration is now open! This session is only offered once-a-year, so don't miss out! If you have taken our Beginning Quilting class, this is a great next step for you. We will build on the skills acquired in the BQ class and will take it to the next level in your quilting. Class runs for 14 weeks and does require weekly cutting to be completed prior to class. Gwen will give you all the logistics at our intro class on Thursday August 25. Class list and supplies will be picked up at first class. Class runs Aug 25-Dec 8 every Thursday. Cost: $160 plus supplies.
Beginning Quilting- Sharpen your sewing skills while making a sampler quilt. This class is great for all ages of sewists and open to all! We will start from the very beginning of how to choose fabric to finishing the quilt top so it's ready to send to the quilter. Summer session will be starting June 7 - August 30. Class list and supplies will be picked up at first class. Sign up today to reserve your spot. Cost: $150
Therapy Thursdays with Downton Abbey! Join us for open sewing the first Thursday of each month from April- August. Bring your machine or handwork sewing projects and let's catch up with the Crawley family. June 1 from 5:30-9:30pm Call to sign up. Cost: $10
Software Inspirations Class- Last Wednesday of each month. Upcoming sessions are May 29 and June 27 starting at 12:30-1:30pm. If you are interested in what the Bernina Software 7 can so, join us for an instructional video and discussion time. Embroidery show and tell always welcome! Bring your USB drive for the downloads. Cost: $10
Circling the Barn Class with Susan Ward
Thanks so much to those of you who were able to attend Susan's classes last fall and this spring. She is returning for a class in November so stay tuned.
---
New Products
Kaffe Fassett Spring 2016 Collection is here! Lots of great new prints to choose from on the bolt. We also have coordinating precuts, all gorgeous.
Indah Pops 2.25" precut strips in a fun variety of colors and prints with which to play.

Batiks
















Got the Blues

















To the Moon and Back-

This line has a sweet kit that includes the backing!


Roadtrip!

Commemorate those long hours spent roadtripping with this cute Road Trip Collection by Dan DiPaolo. Quilts, wall hangings, maybe even a pillow for the car. Throw in some postcards printed on fabric (in store) for a great piece of memories.
50 States
fabric for summer as
well. Panels in two color ways, each with two styles on the same bolt.
Seasonal Fabrics
Halloween fabrics are in. Moda's line is cute and modern, and we have the coordinating jelly roll.
Fall bolts and precuts have arrived before the leaves have even fallen. Full of gold metallic for a sparkling autumn.
Snow flies during all Montana seasons: Holiday fabric is here.




The Town Square holiday collection by Holly Taylor is a sweet remembrance of winter seasons past featuring a village scene print. Coordinating fabrics include whimsical snowflakes, holly, and stylized trees in burgundy, navy, tans, and dusty blues. We have charm packs and jelly rolls of this vintage collection.
We have kits to be cut this coming week and those will be ready soon!

























JOL line from Moda. This is from a new Norwegian designer for Moda and it's a great winter fabric.

---
Wool kits, patterns, and frames are here for summer and winter. Kits for both the framed pieces are available. Have pieces that need a frame? We have separate frames also.
Small wool kits for the seasons. Stand is sold separately.

Moda Lollies. Sample is hung in store. Hurry in, supplies are limited!
Time to "Bee Creative" with this kit and companions/precuts.
---
Bobcat Mania
For those still interested in the Bobcat quilts up front--it's never too early to plan next year's graduation gifts--a pattern for Square Dance, the quilt pictured below, is coming soon. Call to get on the list for the pattern when it arrives. We also still have various Bobcat quilt kits available.
Just one of our great Bobcat samples made with the Yellow Brick Road pattern, on display in our window available in a kit.
We've stocked up on all kinds of companions to go along with the Bobcat fabric so the sky is the limit on what you can create.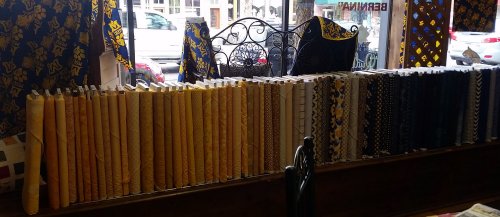 ---

Machine Repair
Our machine repair technician, Cameron, comes bi-weekly for machine service. We do have a reservation list. Call today to get your machine all ready for the fun classes you are going to take with us. Did you know we also do private lessons on your sewing machine? Call us to get on either of those schedules. 406-586-6097