January News from MSQCo.

Happy New Year! It's hard to believe it is already 2016. We are have been doing inventory and all of a sudden it's January 6th! I think I am mostly glad to get back to a regular routine that includes a little sewing! We've got some fun things planned for 2015- see below for these not to be missed classes.


SEWAPALOOOOOOZA! with Bernina Educator from Texas, Kathy Shalda. Friday, January 15 and Saturday, January 16. You will not want to miss out on this fun time playing with a variety of machines including the Bernina Embroidery, Sewing Machines and Sergers. We provide all materials needed for each project so early sign up is key. Chocolate and Coffee (or Tea) is the theme... So you know we'll have some fun treats!

Bring a friend and come play with us- Space in each session is limited so call today! Let me know when you are signing up with a friend so I can put both of your names into a special drawing for a great gift basket!

Your $99 class fee includes: Kits for all projects, Bernina goodie bags, class instruction, lunch and snacks. Sign up for both days and save $30 on your class fee.

Birthday Party for Birthday Club Members. Please join us on Saturday, January 30th from 10:30-11:30am for a fun overview of the Birthday Club. If you were a part of the Birthday Club in 2015 or are interested in signing up- come and see what it's all about. Bring your blocks or finished top so we can what you have and be inspired- Cake provided!

Classes & Clubs:


Birthday Club- New Session starting in January 2016- Sign up today for your birthday month. We have had a fun time this year making one block a month for each other. Don't miss out!!

Beginning Quilting Class- A great refresher if you've been quilting for a while or if you are new to quilting and desire to learn the basics. We teach formulas for figuring out all kinds of quilting blocks. The Spring 2016 BQ Session starts on Tuesday, February 2nd- runs for 12 weeks. See our website for class supply list.
AM class: Tuesdays from 10am - 1pm
PM class: Tuesdays from 6pm - 9pm


Software Club starts
January 27, 12:30-1:30
Software classes for 2016 will be expanding and growing our knowledge of Bernina's Software 7. There is an update to the Software Version 7 that you can download from the Bernina website.

F.W.Y.S. Club (FINISH WHAT YOU STARTED)-

On Fridays each month we have staff available in our classroom to help you finish those projects that have been hanging over your head. Call ahead and let us know you are coming as space is limited and machines are spoken for quickly. Cost: $10 for classroom use and an extra $5 if you need to use our machine.

Pre-Cut Pot Luck starts January 29th- We will meet the last Friday of each month @ 5:30 pm for a bite to eat and a fun and easy project using precuts! Bring your favorite snack to share and join in the fun.

Millefoire Quilt Along from Katja Marek's book The New Hexagon. There are a lot of options in this monthly English Paper Piecing Club. Come to the first class and see what it's all about then choose your project. Class Fee: $20 will be applied to your first purchase for the class materials. First Session: January 21 10 am and 6 pm classes available. Sign up today!
Blocks of the Month:
RIVER ROCK (Neutrals) or RADIANT REFLECTIONS (Brights) 77.5" x 88"
Coming in January - $31.50/month with $30 registration fee due at sign up. Please let us know as space is limited in each colorway. We got our shop kits in and the batiks are gorgeous!! Cannot wait to start on this.


America's Garden BOM is here!! Your registration fee and first month provide a huge amount of fabric to build this stunner. The floral fabrics are gorgeous and for the next 5 months you will love seeing each of the florals that represent the states in our country. I am excited for you to see what cute kits the gals have made for you! If you haven't signed up- do so today! We have a few spots available.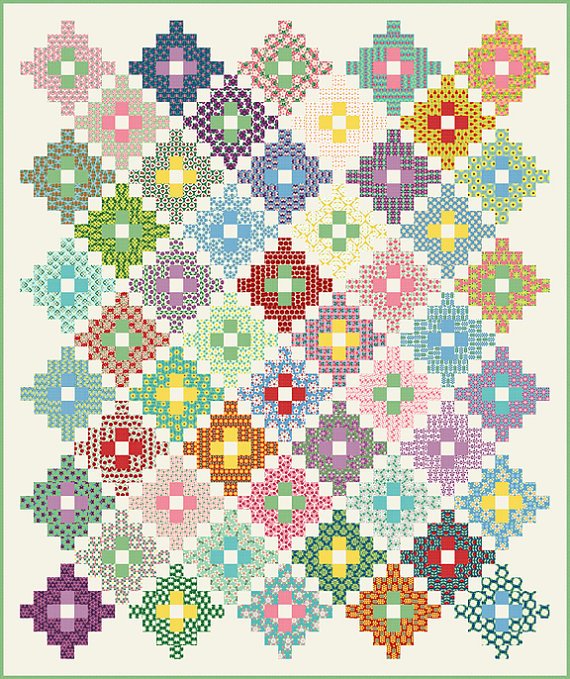 Reminder: Our Repair Technician will be here on Jan 15 for machine service. There are a few spots still available so give us a call @ 406-586-6097 to get on the reservation list. All machines need to be here by the end of day 14th of January.