May News from MSQCo.
Main Street Quilting Co. will be closed May 25th in observance of Memorial Day.



Classes & Clubs:



Beginning Quilting- Learn all the basics of quilting from measuring and cutting to assembling and sewing from patterns and your own designs. This twelve week session is designed for new quilters and has a wonderful final product: a complete quilt top! Join Gwen for her morning or evening sessions on Tuesdays beginning June 2nd. This class is a prefect gift for a loved one looking to learn! Please call to register.

Strip Club- Last Fri monthly Cost: $10.00/class- please call and get on the list so we know how to set up the classroom. In May we will be making an adorable pillow using those left over 2 1/2" strips. The background kits are ready and you will just add your strips!

All About Embroidery Club- Second to last Wed. monthly @ 10:30 am. This tutorial based class is great for those wanting to learn more about embroidery. Class good for all embroidery machines! Bring a flash drive for class materials to be downloaded onto - Cost: $10/session.

Software Inspirations- Last Wed. monthly @ 12:30pm. This class features Bernina Software 7. Each lesson helps you to dive deeper into using the software. Bring your computer and flash drive and stay to play after the lesson! Cost: $10/session.

Batik Babes- A new project from the much loved book, On the Run Again, will be the focus of our next Batik Babes class on May 18th. Featuring a modern Venetian tile theme, this project also includes a beautiful multicolored pieced backing, making it reversible. Join Gwen in our morning or evening session for a start to finish batik table runner. Cost: $15; classes are Noon - 3pm or 6pm - 9pm. Kits are available in store!



Sweet Land of Liberty- Our new Block of the Week starts May 16th! With an Independence Day picnic theme, this summer project is broken into six blocks and will be ready for display in your home before the 4th! Please stop by to sign up and see our sample! Cost: $16/week.

FINISH WHAT YOU STARTED CLUB- 12pm to 6 pm.- On the First, Third and Last Friday of each month from we have staff available in our classroom to help you finish those projects that have been hanging over your head. Call ahead and let us know you are coming as space is limited and machines are spoken for quickly.
Cost: $10 for classroom use and $15 if you need to use our machine.
Arcadia Ave - Due to increased interest, we are considering re-kitting this quilt. If you want to reserve a set, please let us know ASAP.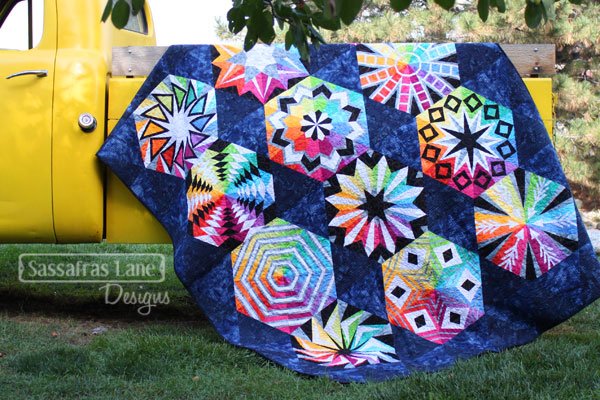 Events:


Mark your calenders and get ready for these great events!
Montana Shop Hop June 13th - 27th
Nation-wide Shop Hop: Row By Row Experience
June 21st - September 8th



New Fabrics:



The Peyton line by Nancy Gere is now available as fat quarter bundles, a lovely floral kit, and by the yard in store.



We've also received two beautiful new Christmas lines which are now available by the yard.


Selected fabrics from Winter Celebration by Sandy Lynam Clough.



Selected fabrics from Holiday Magic by Jane Shade Beach.



New Kits & Other Products:



Fabric Play books and kits- A new customer favorite at Main Street Quilting Co. is our Fabric Play book. Each pattern is beautiful, quick, and fun, but best of all, versatile. Fabric Play was designed around the concept of changing the fabric for a new quilt. Well illustrated and easy to follow instructions have made it a go-to book for experimenting with fabrics you love. Kits are available in two colorways for our three most popular designs.




Some of our current Fabric Play samples in store:



One yard cuts- Looking for a fabric to build a project around? Do fat quarters not cut it for you? We now have pre-cut yards of fabric available in both batiks and regular cotton!



Don't forget to stop by the store and see what's new!