March News from MSQCo.
Didn't I just send out an email with February news? When is time going??? We have a full list of BOM, new kits and events coming up in March so read all the way to the bottom of this email!
We have exciting news!!!

MARCH 24th we are having our next Downton Abbey Event @ the Story Mansion in Bozeman.

Tickets are $25.00 per person.

Space for each session is limited to 50 people (yes, men are invited too!) so call ASAP and le

t us know which session you would like to attend: Morning (10 am), Afternoon (1 pm) or Evening (6 pm).
Upcoming Classes & Clubs:



Strip Club- Last Fri monthly Cost: $10.00/class- please call and get on the list so we know how to set up the classroom. February class will be doing the strip quilt hanging in the store so stop in and see it! It's a great class to bring a friend who is new to quilting!

March- We will feature a free pattern that uses light and dark strips to make a fun, on-point quilt.

We made ours from the new Downton Abbey line! April has a fun project as well, photo below and only two kits left!

T-Shirt Quilt Class March 6-7- Sign up today for Marty's next quilt class using those t-shirts. This is a perfect time to get them all sewn up into that graduation gift you've been meaning to make!

All About Embroidery Club- Second to last Wed. monthly @ 10:30 am. This tutorial based class is great for those wanting to learn more about embroidery. Class good for all embroidery machines! Bring a flash drive for class materials to be downloaded onto - Cost: $10/session.

Software Inspirations- Last Wed. monthly @ 12:30pm. This class features Bernina Software 7. Each lesson helps you to dive deeper into using the software. Bring your computer and flash drive and stay to play after the lesson! Cost: $10/session.


March16 Batik Babes- Classes have been filling quickly and we are considering adding a third session so call us today and get on the afternoon 12-3 or evening 6-9 class. We are limiting class size in order to assist each student with the project. Stop in and see the next cute project Carrie has ready!


FINISH WHAT YOU STARTED CLUB- 12pm to 6 pm.- On the First, Third and Last Friday of each month from we have staff available in our classroom to help you finish those projects that have been hanging over your head. Call ahead and let us know you are coming as space is limited and machines are spoken for quickly.
Cost: $10 for classroom use and $15 if you need to use our machine.
FINISH WHAT YOU STARTED CLUB-12pm to 9pm.- The Second Friday of each month has been set aside for a longer session of FWYS. The prices will be the same but we would like to know if you will be joining us.
BOM News: Twilight and Aurora BOMs have started. We have two more spaces in the Aurora colorway (lighter) and one in the Twilight colorway (darker). Registration Fee/Pattern Fee: $25.00 and monthly cost: $15.50/
month


Arcadia Ave BOM- We have added two more spots to this BOM due to it's popularity. You do not have to attend the Weds class but we have set that time aside if you are in need of help. As always, you are welcome to come in and see the first block completed. It's a beauty!!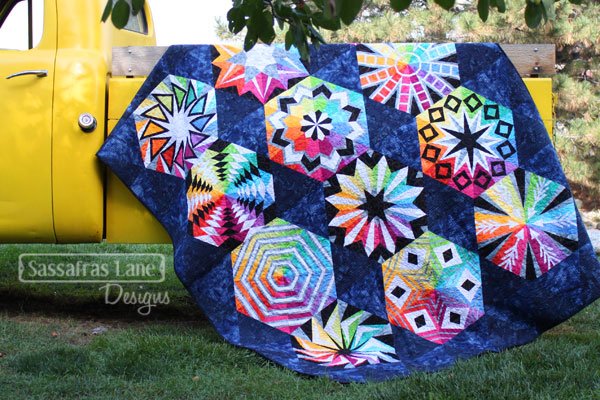 FEB 27-28 TWO DAYS ONLY: This weekend is the Downtown Bozeman Association' WINTER CRAZY DAYZ! Friday and Saturday there will be come stellar deals on our already low priced sales rack that you won't want to miss! We will also be having 35% off on Christmas and Halloween fabrics, 25% on regular priced fabrics. Buy 3 patterns, get one FREE!! Wool is 15% off all bundles and kits. Our Bernina floor models are 20%. Sale pricing applies only to products in the store on sale days.

As a quick reminder: All Sales are final on cut & pre-cut fabrics, patterns, books, and software. Sale items are also non-returnable. Thank you for understanding our policy.