Are you ready for Row By Row? This year's theme is Taste the Experience and is interpreted in many different ways. Our Row is called "Taste of Montana" and we have fun piecing block combined with applique.

Want the row but not able to visit us? You can order it online at www.mainstreetquiltingco.com we will be able to ship rows on November 1st as per the rules. Be sure to reserve your row today as we will have limited amount of kits. Email us, call us, order online or send a carrier pigeon.




Stay Tuned for a weekly class for sewists of all ages and skill levels! Come in and make a quick project with us for SEW DAYS! Our patterns have arrived and there are all kinds of fun and simple things to make from placemats to a backpack!
Aurifil Club- we have a limited amount of Aurifil thread boxes and are happy to offer them to you at a special club price. Coupons will be mailed this week to those who responded by email. If you missed out on this special- there are still a few boxes left. Email us today at info@mainstreetquiltingco.com




Jelly Roll Rug Class- June 18-19. Come to class with your strips sewn together as per the pattern. It's not too late to sign up for this fun class. Cost: $50 plus supplies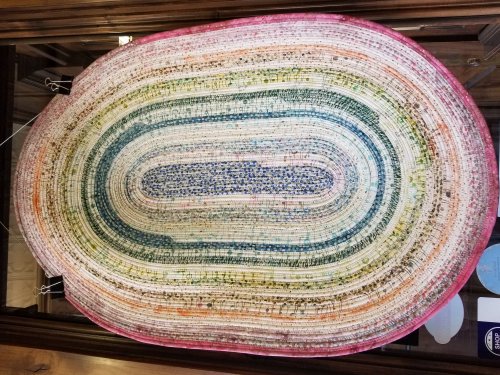 Long Arm Rental Class- Monday, June 24th- If you would like to learn to use the long arm, this class is a prerequisite to the rental. Cost: $50 includes supplies

T-Shirt Quilt Class-
July 22-23 Marty will be on hand to walk you through a quick process for making a t-shirt quilt. No more backing all those t-shirts, no more stiff T-shirt quilts! Most class attendees leave with the top completed in the two days- All ages welcome. Cost:$50 plus book

Advanced Quilting Class- 14 weeks
Class starting Thursday, August 29th- Do not wait to sign up! Registration fee goes up next week to $70 from $50. I've got books ready and an email waiting to go out listing class supplies. If you are on the fence- consider calling today.
NEW FABRICS- There are so many new fabrics in the store that I am sure to miss something new. You can check out our website or stop in and see what is new. There are new batiks and cottons, we have a new Minkee Kit and so much more arriving weekly.
Here's a quick highlight:
Field Day is so beautiful. Just in time to make those fun summer runners, aprons, bags and more! Stop in to check out the new lawns which are a flowy version of the cotton. It will be great for clothes, and many people are adding it into quilts also.



Be Joyful Kit- Adorable quilt - pix doesn't do it justice!



Welcome Bear Kits now available.


My Imagination- This sweet line is inspiring us to make a cut little panel quilt!




Blocks of the Month-
Floral Menagerie- Stop by and see this beauty in our window! The applique is easy and the piecing is fun. You'll love making these large blocks.






Watch for this one coming this fall. Island Batik is kindly sending us the trunk show so you can see what you are signing up for before the fabrics arrive! We are going to try this one as a class since you are learning so many great techniques!




Emerald Valley is being cut right now- The fabrics by McKenna Ryan are gorgeous! This 9 month Block of the Month will begin in July! Call to register toady.


We worked with a batik company to bring you Yellowstone Park fabric and we just got to order another custom color just for Main Street Quilting Company!! It's a lovely blue with a pretty rusty gold as accents. We are expecting this to arrive later this fall.

Speaking of custom batiks, we have ordered more of our original MSU Bobcat batik (I had not idea we'd ever even run out. Thank you for continuing to buy the MSU fabrics!). New kits will be made as soon as it arrives next week. You are welcome to preorder this online!



Summer Hours:
Mon, Tues, Thurs, Fri 10a - 6p
Weds, Sat 10a - 5p
Sun 12p - 3p



Cameron is here every two weeks to repair and service your sewing machines, sergers and long arms! He will next be here on June 21st. We are also booking to July, please call today for your reservation. 406-586-6097